What is Searchtudo.com?
Searchtudo.com is a browser hijacker created with the aim common for all hijackers – promotion of third-party sites. To succeed in this intention, the developers of the hijacker made it look like a search page, still the page gives itself away with a number of ads seen on it. Despite the fact that the page is intended to be a search engine, you shouldn't use it for this purpose – bear in mind that the page belongs to malware and is used as a tool for misleading the users. When a search performed on searchtudo.com, the results are always unpredictable as the hijacker tends to replace the relevant pages with those that it promotes. There were cases of users being brought to malicious websites by the Searchtudo.com hijacker. What is more confusing is that the malware blocks the browser setting from altering, so that a user won't be able to change the homepage manually. The only means to get rid of the page is to remove Searchtudo.com hijacker itself.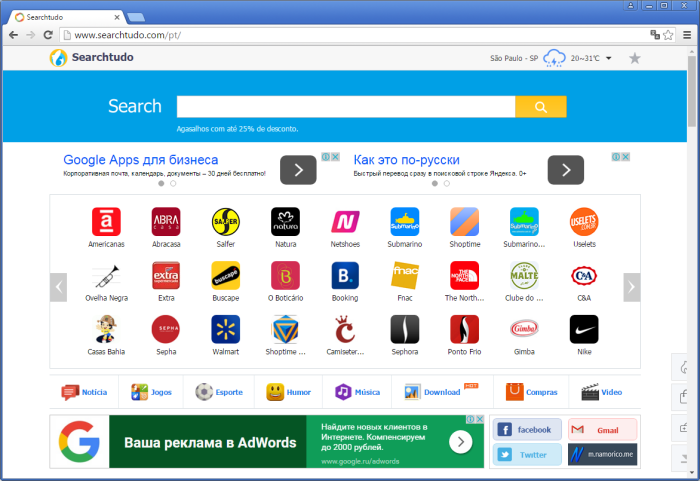 How Searchtudo.com got installed on your computer?
Searchtudo.com can be offered to you together with installation of freeware, however generally victims overlook that option. Partly because they are unaware of possibility to get malware via usual installtion, partly because mentioning of Searchtudo.com is well hidden. To see what components the installer includes, click Advanced (not recommended) type of installation, when given a chance to choose. Ignore the commentary that it is not recommended, it is stated exactly for people wouldn' reveal the malware presence. Then carefully read through the setup screens until you see the step with additional software, which installation is always accepted by default. Now all you need is simply deselect these boxes.
---
Symptoms of Searchtudo.com infection
First and the most striking proof of having a browser hijacker is change of the main page. Usually it is a search engine page that is designed so that user would believe in its legitimacy.
Generally, hijackers cause redirections when user makes a search query on its page or tries to reach a blocked site (usually another search engine or anti-malware sites)
Another indicator of hijacker infection is appearance of new programs, toolbars and browser extensions that you don't remember installing and processes in start-up queue.
Also, you may notice the significant slowdown in the system operating, since running of the applications required for malware activity may consume a lot of CPU.
Besides, hijacker infection may as well negatively affect the speed of Internet connection.
---
How to remove Searchtudo.com?
To make sure that the hijacker won't appear again, you need to delete Searchtudo.com completely. For this you need to remove the application from the Control Panel and then check the drives for such leftovers as Searchtudo.com files and registry entries.
We should warn you that performing some of the steps may require above-average skills, so if you don't feel experienced enough, you may apply to automatic removal tool.
Performing an antimalware scan with Norton would automatically search out and delete all elements related to Searchtudo.com. It is not only the easiest way to eliminate Searchtudo.com, but also the safest and most assuring one.
---
Steps of Searchtudo.com manual removal
Uninstall Searchtudo.com from Control Panel
As it was stated before, more likely that the hijacker appeared on your system brought by other software. So, to get rid of Searchtudo.com you need to call to memory what you have installed recently.
How to remove Searchtudo.com from Windows XP
Click the Start button and open Control Panel
Go to Add or Remove Programs
Find the application related to Searchtudo.com and click Uninstall
How to remove Searchtudo.com from Windows 7/Vista
Click the Start button and open Control Panel
Go to Uninstall Program
Find the application related to Searchtudo.com and click Uninstall
How to remove Searchtudo.com from Windows 8/8.1
Right-click the menu icon in left bottom corner
Choose Control Panel
Select the Uninstall Program line
Uninstall the application related to Searchtudo.com
How to remove Searchtudo.com from Windows 10
Press Win+X to open Windows Power menu
Click Control Panel
Choose Uninstall a Program
Select the application related to Searchtudo.com and remove it
---

If you experience problems with removing Searchtudo.com from Control Panel: there is no such title on the list, or you receive an error preventing you from deleting the application, see the article dedicated to this issue.
Read what to do if program won't uninstall from Control Panel
---
Remove Searchtudo.com from browsers
Since some of hijacker threats use a disguise of a browser add-on, you will need to check the list of extensions/add-ons in your browser.
How to remove Searchtudo.com from Google Chrome
Start Google Chrome
Click on Tools, then go to the Extensions
Delete Searchtudo.com or other extensions that look suspicious and you don't remember installing them
How to remove Searchtudo.com from Internet Explorer
Launch Internet Explorer
Click on the Tools/Gear icon, then select Manage Add-ons
Delete Searchtudo.com or other extensions that look suspicious and you don't remember installing them
How to remove Searchtudo.com from Mozilla Firefox
Start Mozilla Firefox
Click on the right-upper corner button
Click Add-ons, then go to Extensions
Delete Searchtudo.com or other extensions that look suspicious and you don't remember installing them
Reset your browsers
How to reset settings in Google Chrome
Click on the icon in the right-upper corner
Choose Settings
Click Show advanced settings
Click the Reset Settings button
How to reset settings in Mozilla Firefox
Click the icon in the upper right corner
Choose Help
Select Troubleshooting Information
Click the Reset Firefox… button
How to reset settings in Internet Explorer
Click on the Tools button
Go to Internet options
Go to the Advanced tab
Click Reset
Delete files and registry entries added by Searchtudo.com
Sometimes removal via Control Panel is not enough since the built-in application can leave some files that shortly will restore the hijacker. So, you need to find all of the following items and delete them
Remove Searchtudo.com files and folders:
%PROGRAMFILES(x86)%\Mozilla Firefox\browser\searchplugins\Searchtudo.xml
%PROGRAMFILES%\Mozilla Firefox\browser\searchplugins\Searchtudo.xml
www.Searchtudo[1].xml
www.Searchtudo.xml
Remove Searchtudo.com registry entries:
SOFTWARE\Wow6432Node\Searchtudo
SOFTWARE\Searchtudo
Software\Microsoft\Internet Explorer\DOMStorage\www.Searchtudo.com
Software\Microsoft\Internet Explorer\DOMStorage\Searchtudo.com