What is DealPly Ads?
DealPly is a shady browser plugin that once installed starts to exercise the characteristics of adware. The ads it generates will appear constantly interrupting you from browsing. They will emerge suddenly and prevent you from page viewing until you close or click it. The pop-ups may differ in appearance – from selling goods with greats discounts to warnings about system vulnerabilities. Since every click initiates forwarding to the sites that DealPly promotes and by this gains revenue, it is interested in making people clicking the ads. The ads will take your browsing history for the basis of the displayed content – DealPly employs spyware techniques to make commercials more tempting. If you are tired with seeing the importunate ads, you should get rid of their source – remove DealPly Ads.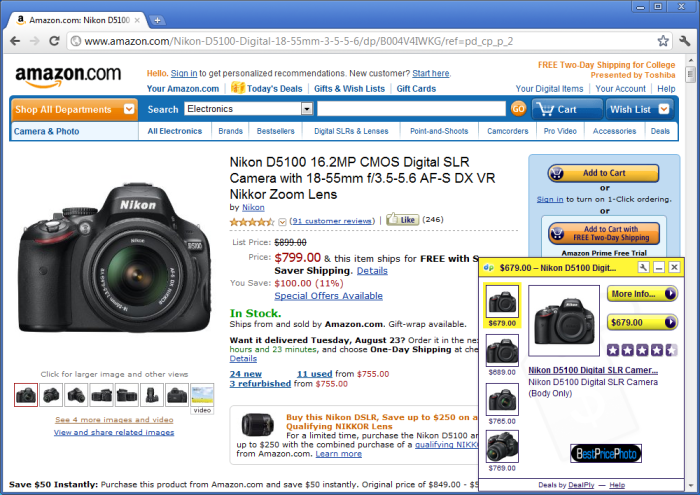 How DealPly got installed on your computer?
If you experience the infection with DealPly and want to get rid of it, the first thing you should do is to remember whether you have installed any freeware recently. Commonly, such installations offer two types of setup – Default and Advanced. The Default one is misleadingly marked as recommended, though we advise against choosing it. By selecting Advanced mode you spend more time, however it is justified with the safety that it presents. The selection allows to make adjustments to some important parameters, like monitoring and deselecting additional components. These elements usually are useless or even harmful applications that don't bask the popularity, so their producers have to apply to such methods.
---
Symptoms of DealPly infection
First and the most striking proof of what you have an adware is ads generated on pages where they haven't appeared before. The ads can be of any type – pop-ups, in-text hyperlinks, banners and their amount increases on shopping sites. Some of them may be labeled as "Ads by DealPly", "Brought by DealPly Ads", "Powered by DealPly Ads", etc.
Another indicator of adware infection is appearance of new programs that you don't remember installing and processes in start-up queue.
Also, you may notice the significant slowdown in the system operating, since running of the applications required for adware activity may consume a lot of CPU.
Besides slowing down the computer itself, adware infection may as well negatively affect the speed of Internet connection.
---
How to remove DealPly Ads?
To make sure that the adware won't appear again, you need to delete DealPly Ads completely. For this you need to remove the application from the Control Panel and then check the drives for such leftovers as DealPly files and registry entries.
We should warn you that performing some of the steps may require above-average skills, so if you don't feel experienced enough, you may apply to automatic removal tool.
Performing an antimalware scan with Norton would automatically search out and delete all elements related to DealPly. It is not only the easiest way to eliminate DealPly Ads, but also the safest and most assuring one.
---
Steps of DealPly Ads manual removal
Uninstall DealPly from Control Panel
As it was stated before, more likely that the adware appeared on your system brought by other software. So, to get rid of DealPly Ads you need to call to memory what you have installed recently.
How to remove DealPly Ads from Windows XP
Click the Start button and open Control Panel
Go to Add or Remove Programs
Find the application related to DealPly and click Uninstall
How to remove DealPly Ads from Windows 7/Vista
Click the Start button and open Control Panel
Go to Uninstall Program
Find the application related to DealPly and click Uninstall
How to remove DealPly Ads from Windows 8/8.1
Right-click the menu icon in left bottom corner
Choose Control Panel
Select the Uninstall Program line
Uninstall the application related to DealPly
How to remove DealPly Ads from Windows 10
Press Win+X to open Windows Power menu
Click Control Panel
Choose Uninstall a Program
Select the application related to DealPly and remove it
---

If you experience problems with removing DealPly from Control Panel: there is no such title on the list, or you receive an error preventing you from deleting the application, see the article dedicated to this issue.
Read what to do if program won't uninstall from Control Panel
---
Remove DealPly Ads from browsers
Since most of adware threats use a disguise of a browser add-on, you will need to check the list of extensions/add-ons in your browser.
How to remove DealPly Ads from Google Chrome
Start Google Chrome
Click on Tools, then go to the Extensions
Delete DealPly or other extensions that look suspicious and you don't remember installing them
How to remove DealPly Ads from Internet Explorer
Launch Internet Explorer
Click on the Tools/Gear icon, then select Manage Add-ons
Delete DealPly or other extensions that look suspicious and you don't remember installing them
How to remove DealPly Ads from Mozilla Firefox
Start Mozilla Firefox
Click on the right-upper corner button
Click Add-ons, then go to Extensions
Delete DealPly or other extensions that look suspicious and you don't remember installing them
Remove files and registry entries added by DealPly
Remove DealPly files and folders:
%USERPROFILE%\Local Settings\Application Data\DealPly\deeypmzm.dll
%PROGRAMFILES(x86)%\DealPly\DealPlyUpdateRun.exe
%ALLUSERSPROFILE%\{52F5BA36-0277-6BB0-B3F1-1B326373C8BC}\1.17.3.1\dina.dll
%LOCALAPPDATA%\Google\Chrome\User Data\Default\Extensions\mphpbdjcljebbcnfopfngmfdackbbdgf
%LOCALAPPDATA%\Google\Chrome\User Data\Default\Extensions\gaiilaahiahdejapggenmdmafpmbipje
%PROGRAMFILES%\DealPly
%ALLUSERSPROFILE%\Application Data\{1914F1D7-4996-2051-F810-50D32892835D}\2.3.5.56\neda.dll
%APPDATA%\Microsoft\Windows\Start Menu\Programs\DealPly
%APPDATA%\DealPly\UpdateProc\UpdateTask.exe
%LOCALAPPDATA%\DealPly
%LOCALAPPDATA%\{DC54EA08-F8FC-86B0-9564-A358B10C5FC0}\uninstall.exe
%ALLUSERSPROFILE%\DealPlyLive
%PROGRAMFILES%\DealPlyLive\Update\DealPlyLive.exe
%APPDATA%\DealPly
Remove DealPly registry entries:
Software\DealPly
Software\Google\Chrome\Extensions\gaiilaahiahdejapggenmdmafpmbipje
Software\Wow6432Node\Google\Chrome\Extensions\gaiilaahiahdejapggenmdmafpmbipje
SOFTWARE\Microsoft\Windows NT\CurrentVersion\Schedule\TaskCache\Tree\DealPlyUpdate
SOFTWARE\Microsoft\Windows NT\CurrentVersion\Schedule\TaskCache\Tasks\{4DC848E5-618B-4A95-A2B9-BC30FC16C4A2}
SOFTWARE\Microsoft\Windows NT\CurrentVersion\Schedule\TaskCache\Plain\{4DC848E5-618B-4A95-A2B9-BC30FC16C4A2}
SOFTWARE\Wow6432Node\Microsoft\Windows\CurrentVersion\explorer\Browser Helper Objects\{EF7BD87A-8024-11E2-F316-F3E56188709B}
SOFTWARE\Microsoft\Windows\CurrentVersion\explorer\Browser Helper Objects\{EF7BD87A-8024-11E2-F316-F3E56188709B}
SOFTWARE\Microsoft\Windows NT\CurrentVersion\Schedule\TaskCache\Tree\DealPly
SOFTWARE\Wow6432Node\DealPly
SOFTWARE\Microsoft\Windows NT\CurrentVersion\Schedule\TaskCache\Tasks\{40B4ACEC-A7F8-413C-8C11-8C35A01E38A0}
SOFTWARE\Microsoft\Windows NT\CurrentVersion\Schedule\CompatibilityAdapter\Signatures, value: Dealply.job
SOFTWARE\Microsoft\Windows NT\CurrentVersion\Schedule\CompatibilityAdapter\Signatures, value: Dealply.job.fp
SOFTWARE\Microsoft\Windows NT\CurrentVersion\Schedule\CompatibilityAdapter\Signatures, value: DealPlyLiveUpdateTaskMachineCore.job
SOFTWARE\Microsoft\Windows NT\CurrentVersion\Schedule\CompatibilityAdapter\Signatures, value: DealPlyLiveUpdateTaskMachineCore.job.fp
SOFTWARE\Microsoft\Windows NT\CurrentVersion\Schedule\CompatibilityAdapter\Signatures, value: DealPlyLiveUpdateTaskMachineUA.job
SOFTWARE\Microsoft\Windows NT\CurrentVersion\Schedule\CompatibilityAdapter\Signatures, value: DealPlyLiveUpdateTaskMachineUA.job.fp
AppID\{80FABB17-63AF-4655-9F07-B6509EE37AF2}
AppID\{F48FC5B2-094A-44C7-B48C-289738C9582D}
DealPlyLive.OneClickProcessLauncherMachine
DealPlyLive.OneClickProcessLauncherMachine.1.0
DealPlyLive.Update3WebControl.3
DealPlyLiveUpdate.CoCreateAsync
DealPlyLiveUpdate.CoCreateAsync.1.0
DealPlyLiveUpdate.CoreClass
DealPlyLiveUpdate.CoreClass.1
DealPlyLiveUpdate.CoreMachineClass
DealPlyLiveUpdate.CredentialDialogMachine.1.0
DealPlyLiveUpdate.OnDemandCOMClassMachine
DealPlyLiveUpdate.OnDemandCOMClassMachine.1.0
DealPlyLiveUpdate.OnDemandCOMClassMachineFallback
DealPlyLiveUpdate.OnDemandCOMClassMachineFallback.1.0
DealPlyLiveUpdate.OnDemandCOMClassSvc
DealPlyLiveUpdate.OnDemandCOMClassSvc.1.0
DealPlyLiveUpdate.Update3COMClassService.1.0
DealPlyLiveUpdate.Update3WebMachine
DealPlyLiveUpdate.Update3WebMachine.1.0
DealPlyLiveUpdate.Update3WebMachineFallback
DealPlyLiveUpdate.Update3WebMachineFallback.1.0
DealPlyLiveUpdate.Update3WebSvc
DealPlyLiveUpdate.Update3WebSvc.1.0
Software\DealPlyLive
SOFTWARE\Classes\AppID\{80FABB17-63AF-4655-9F07-B6509EE37AF2}
SOFTWARE\Classes\AppID\{F48FC5B2-094A-44C7-B48C-289738C9582D}
SOFTWARE\Classes\AppID\DealPlyLive.exe
SOFTWARE\Classes\DealPlyLive.OneClickCtrl.9
SOFTWARE\Classes\DealPlyLive.OneClickProcessLauncherMachine
SOFTWARE\Classes\DealPlyLive.OneClickProcessLauncherMachine.1.0
SOFTWARE\Classes\DealPlyLiveUpdate.CoreClass
SOFTWARE\Classes\DealPlyLiveUpdate.CoreClass.1
SOFTWARE\Classes\DealPlyLiveUpdate.CoreMachineClass
SOFTWARE\Classes\DealPlyLiveUpdate.CoreMachineClass.1
SOFTWARE\Classes\DealPlyLiveUpdate.CredentialDialogMachine
SOFTWARE\Classes\DealPlyLiveUpdate.CredentialDialogMachine.1.0
SOFTWARE\Classes\DealPlyLiveUpdate.OnDemandCOMClassMachine
SOFTWARE\Classes\DealPlyLiveUpdate.OnDemandCOMClassSvc
SOFTWARE\Classes\DealPlyLiveUpdate.OnDemandCOMClassSvc.1.0
SOFTWARE\Classes\DealPlyLiveUpdate.ProcessLauncher
SOFTWARE\Classes\DealPlyLiveUpdate.ProcessLauncher.1.0
SOFTWARE\Classes\DealPlyLiveUpdate.Update3COMClassService
SOFTWARE\Classes\DealPlyLiveUpdate.Update3COMClassService.1.0
SOFTWARE\Classes\DealPlyLiveUpdate.Update3WebMachine
SOFTWARE\Classes\DealPlyLiveUpdate.Update3WebSvc
SOFTWARE\Classes\DealPlyLiveUpdate.Update3WebSvc.1.0
SOFTWARE\Classes\Wow6432Node\AppID\{80FABB17-63AF-4655-9F07-B6509EE37AF2}
SOFTWARE\Classes\Wow6432Node\AppID\{F48FC5B2-094A-44C7-B48C-289738C9582D}
SOFTWARE\Microsoft\Windows NT\CurrentVersion\Schedule\TaskCache\Tasks\{03B23957-FF7A-4C53-99C5-F22023D1047E}
SOFTWARE\Microsoft\Windows NT\CurrentVersion\Schedule\TaskCache\Tasks\{951350BD-E8C5-45A3-B27C-3ECA5F1EB76B}
SOFTWARE\Microsoft\Windows NT\CurrentVersion\Schedule\TaskCache\Tasks\{BC1385D3-BD54-4C55-A49C-B883D9C43353}
SOFTWARE\Wow6432Node\Classes\AppID\{F48FC5B2-094A-44C7-B48C-289738C9582D}
SOFTWARE\Wow6432Node\DealPlyLive\Update\Clients\{0d629f4e-4984-400f-addb-97a2cb6ae549}
SOFTWARE\Wow6432Node\Microsoft\Internet Explorer\Low Rights\ElevationPolicy\{7F1796B2-BEC6-427B-B734-F9C75ED94A80}
SOFTWARE\Wow6432Node\Microsoft\Internet Explorer\Low Rights\ElevationPolicy\{8C338DDB-19FC-4C1F-B74D-6931EE55F7A1}
SYSTEM\CurrentControlSet\services\dealplylivem
SYSTEM\CurrentControlSet\services\dealplylive
SYSTEM\ControlSet001\services\dealplylivem
SYSTEM\ControlSet001\services\dealplylive
SOFTWARE\Wow6432Node\MozillaPlugins\@tools.dpliveupdate.com/DealPlyLive Update;version=9
SOFTWARE\Wow6432Node\MozillaPlugins\@tools.dpliveupdate.com/DealPlyLive Update;version=3
SOFTWARE\Wow6432Node\Microsoft\Windows NT\CurrentVersion\Image File Execution Options\DealPlyLive.exe
SOFTWARE\Wow6432Node\DealPlyLive
SOFTWARE\Classes\Wow6432Node\AppID\DealPlyLive.exe
SOFTWARE\Microsoft\Windows NT\CurrentVersion\Schedule\TaskCache\Tree\DealPlyLiveUpdateTaskMachineUA
SOFTWARE\Microsoft\Windows NT\CurrentVersion\Schedule\TaskCache\Tasks\{244F72F1-B028-4904-AC98-AC61DACB1B51}
SOFTWARE\Microsoft\Windows NT\CurrentVersion\Schedule\TaskCache\Tasks\{DC13D9ED-6DB0-4739-9990-6280F321FC70}
SOFTWARE\Microsoft\Windows NT\CurrentVersion\Schedule\TaskCache\Tasks\{0382179E-8A8C-49A2-B72F-1558106CE5B1}
SOFTWARE\Microsoft\Windows NT\CurrentVersion\Schedule\TaskCache\Tasks\{1A68D726-6F5D-4CC1-880B-73AA959844C0}
SOFTWARE\Microsoft\Windows NT\CurrentVersion\Schedule\TaskCache\Tasks\{2CC6B84E-69E3-4F0F-90C6-AF699731DCAE}
SOFTWARE\Microsoft\Windows NT\CurrentVersion\Schedule\TaskCache\Tasks\{6A582D85-6B9D-402F-9025-9736DF5789A5}
SOFTWARE\Microsoft\Windows NT\CurrentVersion\Schedule\TaskCache\Plain\{28616C08-BD88-4C29-AAA9-73F1B1AE805D}
SOFTWARE\Microsoft\Windows NT\CurrentVersion\Schedule\TaskCache\Tasks\{28616C08-BD88-4C29-AAA9-73F1B1AE805D}
Software\Microsoft\Internet Explorer\Approved Extensions, value: {ae48ed75-5a56-4c5f-bbce-6f1ac3875f66}
SOFTWARE\Google\Chrome\Extensions\ejnmnhkgiphcaeefbaooconkceehicfi
SOFTWARE\Wow6432Node\Google\Chrome\Extensions\ejnmnhkgiphcaeefbaooconkceehicfi
SOFTWARE\Classes\Local Settings\Software\Microsoft\Windows\CurrentVersion\AppContainer\Storage\microsoft.microsoftedge_8wekyb3d8bbwe\Children\001\Internet Explorer\EdpDomStorage\www.dealply.com
SOFTWARE\Classes\Local Settings\Software\Microsoft\Windows\CurrentVersion\AppContainer\Storage\microsoft.microsoftedge_8wekyb3d8bbwe\Children\001\Internet Explorer\EdpDomStorage\dealply.com
SOFTWARE\Wow6432Node\Google\Chrome\Extensions\mphpbdjcljebbcnfopfngmfdackbbdgf
SOFTWARE\Google\Chrome\Extensions\mphpbdjcljebbcnfopfngmfdackbbdgf
SOFTWARE\Microsoft\Internet Explorer\Low Rights\ElevationPolicy\{C536F080-57B7-46D6-8894-C647553F2889}
SOFTWARE\Wow6432Node\Microsoft\Internet Explorer\Low Rights\ElevationPolicy\{C536F080-57B7-46D6-8894-C647553F2889}