What is WareOut?
For an inattentive user, or for a user who has believed the promotional description of an application, WareOut seems to be a powerful anti-spyware tool. Unfortunately, in the end they understand that installing WareOut was a mistake. It soon turns out that WareOut lacks the capabilities to detect and delete spyware, instead it fakes notifications about threats ro convince user in purchasing the full version of the program. The application will continuously annoy a user with scheduled scan results, showing the invented menace. This will happen until a victim of the rogue anti-spyware application succeeds to remove WareOut completely.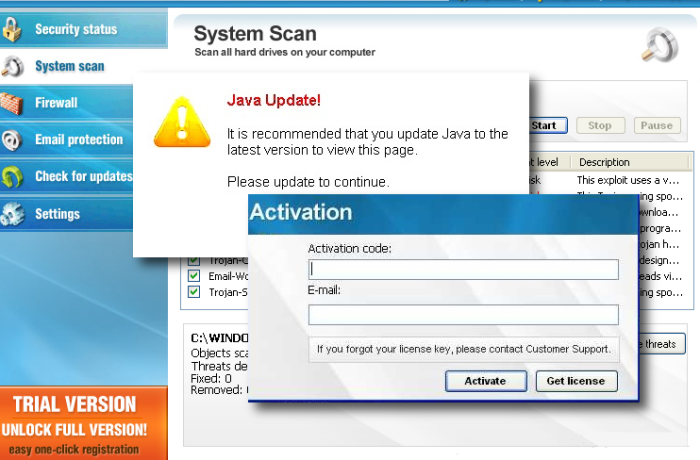 How WareOut got installed on your computer?
If you are sure that you haven't installed WareOut, but it still somehow managed to get inside your computer, don't be surprised, as rogue application usually use deceptive methods of infiltration. Typically, WareOut is distributed through spam messages or fake advertisement. If you see a suspicious e-mail in your inbox, do not open it. Sometimes such messages disguise themselves as government or police notifications and look quite legitimate, they usually contain an attachment of a tax form, or something like that, in this case do not open the attachment without scanning it both with antivirus and antimalware programs. As for advertisements, avoid clicking them – do not get fooled by amazing bargains or lottery prizes.
---
How to remove WareOut?
To delete WareOut completely you need to remove the application from the Control Panel and then check the drives for such leftovers as WareOut files and registry entries.
We should warn you that performing some of the steps may require above-average skills, so, if you don't feel experienced enough, you may apply to automatic removal tool.
Performing an antimalware scan with Norton would automatically search out and delete all elements related to WareOut. It is not only the easiest way to eliminate WareOut, but also the safest and most assuring one.
---
Steps of WareOut manual removal
Uninstall WareOut from Control Panel
You could have downloaded the program yourself but, as it was stated before, more likely that the rogue application appeared on your system brought with other software. So, to get rid of WareOut you need to call to memory what you have installed recently.
How to remove WareOut from Windows XP
Click the Start button and open Control Panel
Go to Add or Remove Programs
Find the application related to WareOut and click Uninstall
How to remove WareOut from Windows 7/Vista
Click the Start button and open Control Panel
Go to Uninstall Program
Find the application related to WareOut and click Uninstall
How to remove WareOut from Windows 8/8.1
Right-click the menu icon in left bottom corner
Choose Control Panel
Select the Uninstall Program line
Uninstall the application related to WareOut
How to remove WareOut from Windows 10
Press Win+X to open Windows Power menu
Click Control Panel
Choose Uninstall a Program
Select the application related to WareOut and remove it
---

If you experience problems with removing WareOut from Control Panel: there is no such title on the list, or you receive an error preventing you from deleting the application, see the article dedicated to this issue.
Read what to do if program won't uninstall from Control Panel
---
Delete files and registry entries added by WareOut
Sometimes removal via Control Panel is not enough since the built-in application can leave some files. So, you need to find all of the following items and delete them.
Remove WareOut files and folders:
WareOutUpdate.exe
woinst.exe
scands32.exe
setvers.exe
ifcfg.exe
snnpapi.exe
tksvr99.exe
Wareout.exe
wosysdll.dll
Remove WareOut registry entries:
HKEY_LOCAL_MACHINE\Software\Microsoft\Windows\CurrentVersion\Run\WareOut
HKEY_LOCAL_MACHINE\Software\Microsoft\Windows\CurrentVersion\Run\WareOut.exe
HKEY_LOCAL_MACHINE\Software\Microsoft\Windows\CurrentVersion\Run\sysconf16
HKEY_LOCAL_MACHINE\Software\[APPLICATION]\Microsoft\Windows\CurrentVersion\Uninstaller\WareOut
HKEY_CURRENT_USER\Software\Microsoft\Windows\CurrentVersion\Run\br0ken SUCCESS "syspanel.exe"
HKEY_CURRENT_USER\Software\Microsoft\Windows\CurrentVersion\Run\Kargo SUCCESS "abrek.exe"
HKEY_CURRENT_USER\SOFTWARE\Microsoft\Windows\CurrentVersion\Run\teqq32 SUCCESS "Trayz.exe"
HKEY_LOCAL_MACHINE\Software\Microsoft\Windows\CurrentVersion\Run SUCCESS Access: 0xF003F
HKEY_LOCAL_MACHINE\Software\Microsoft\Windows\CurrentVersion\Run\jopplerg SUCCESS "install2.exe" 60 19.30528517 WareOut.exe:556 SetValue HKLM\Software\Microsoft\Windows\CurrentVersion\Run\XTermInit