What is Snap.do?
Snap.do is a hijacker created by ReSoft LTD., it is a malware that overrides your browser settings and changes default search engine and homepage to search.snapdo.com. You may also detect the presence of the hijacker by the appeared magnifier icon on your desktop; if you click it it will open the search.snapdo.com in one of your browsers. Though the page looks like an ordinary search engine, if you initiate a search on it, it will show you some ads first, then some third-party links and only then relevant sources. If you are annoyed with the hijacker's activity and want to remove Snap.do, please use the instructions below.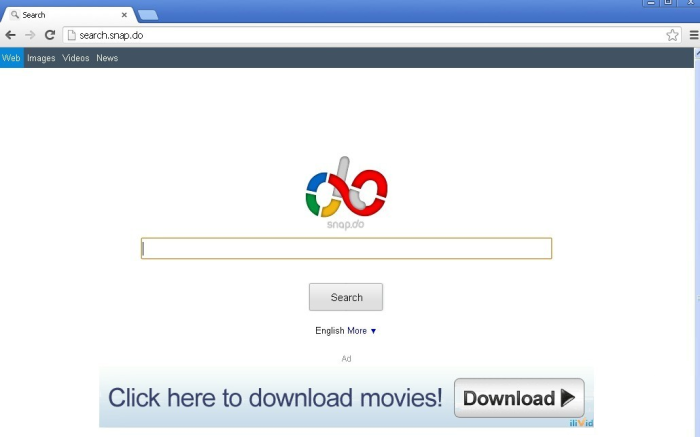 How Snap.do got installed on your computer?
As a rule, hijackers like Snap.do land on systems carried by other software. People usually are tricked to install it by tempting descriptions or by tricks like bundling. Be careful as you may install the hijacker even without knowing it. Avoid malicious programs by checking the options of Advanced installation, which give the full picture of what the setup includes. If you see the offer to install some additional components look them up on the Internet and decide whether you need them.
---
Symptoms of Snap.do infection
First and the most striking proof of having a browser hijacker is change of the main page. Usually it is a search engine page that is designed so that user would believe in its legitimacy.
Generally, hijackers cause redirections when user makes a search query on its page or tries to reach a blocked site (usually another search engine or anti-malware sites)
Another indicator of hijacker infection is appearance of new programs, toolbars and browser extensions that you don't remember installing and processes in start-up queue.
Also, you may notice the significant slowdown in the system operating, since running of the applications required for malware activity may consume a lot of CPU.
Besides, hijacker infection may as well negatively affect the speed of Internet connection.
---
How to remove Snap.do?
To make sure that the hijacker won't appear again, you need to delete Snap.do completely. For this you need to remove the application from the Control Panel and then check the drives for such leftovers as Snap.do files and registry entries.
We should warn you that performing some of the steps may require above-average skills, so if you don't feel experienced enough, you may apply to automatic removal tool.
Performing an antimalware scan with Norton would automatically search out and delete all elements related to Snap.do. It is not only the easiest way to eliminate Snap.do, but also the safest and most assuring one.
---
Steps of Snap.do manual removal
Uninstall Snap.do from Control Panel
As it was stated before, more likely that the hijacker appeared on your system brought by other software. So, to get rid of Snap.do you need to call to memory what you have installed recently.
How to remove Snap.do from Windows XP
Click the Start button and open Control Panel
Go to Add or Remove Programs
Find the application related to Snap.do and click Uninstall
How to remove Snap.do from Windows 7/Vista
Click the Start button and open Control Panel
Go to Uninstall Program
Find the application related to Snap.do and click Uninstall
How to remove Snap.do from Windows 8/8.1
Right-click the menu icon in left bottom corner
Choose Control Panel
Select the Uninstall Program line
Uninstall the application related to Snap.do
How to remove Snap.do from Windows 10
Press Win+X to open Windows Power menu
Click Control Panel
Choose Uninstall a Program
Select the application related to Snap.do and remove it
---

If you experience problems with removing Snap.do from Control Panel: there is no such title on the list, or you receive an error preventing you from deleting the application, see the article dedicated to this issue.
Read what to do if program won't uninstall from Control Panel
---
Remove Snap.do from browsers
Since some of hijacker threats use a disguise of a browser add-on, you will need to check the list of extensions/add-ons in your browser.
How to remove Snap.do from Google Chrome
Start Google Chrome
Click on Tools, then go to the Extensions
Delete Snap.do or other extensions that look suspicious and you don't remember installing them
How to remove Snap.do from Internet Explorer
Launch Internet Explorer
Click on the Tools/Gear icon, then select Manage Add-ons
Delete Snap.do or other extensions that look suspicious and you don't remember installing them
How to remove Snap.do from Mozilla Firefox
Start Mozilla Firefox
Click on the right-upper corner button
Click Add-ons, then go to Extensions
Delete Snap.do or other extensions that look suspicious and you don't remember installing them
Reset your browsers
How to reset settings in Google Chrome
Click on the icon in the right-upper corner
Choose Settings
Click Show advanced settings
Click the Reset Settings button
How to reset settings in Mozilla Firefox
Click the icon in the upper right corner
Choose Help
Select Troubleshooting Information
Click the Reset Firefox… button
How to reset settings in Internet Explorer
Click on the Tools button
Go to Internet options
Go to the Advanced tab
Click Reset
Delete files and registry entries added by Snap.do
Sometimes removal via Control Panel is not enough since the built-in application can leave some files that shortly will restore the hijacker. So, you need to find all of the following items and delete them
Remove Snap.do files and folders:
%ALLUSERSPROFILE%\afoir\afoir.exe
%LOCALAPPDATA%\Smartbar\Application\ShowPass.exe
%LOCALAPPDATA%\Smartbar\Application\Shopop.exe
%LOCALAPPDATA%\Smartbar\Application\Muvic.exe
%PROGRAMFILES%\LPT\srpts.exe
%LOCALAPPDATA%\Smartbar\Application\BingProtect.exe
%LOCALAPPDATA%\Smartbar\Application\FRGSmartbar.exe
%LOCALAPPDATA%\Smartbar\Application\SafeFinder.exe
%PROGRAMFILES%\Stpro\Stpro.exe
%LOCALAPPDATA%\Ap\MTResources\btmn.dll
%LOCALAPPDATA%\Smartbar\Application\Resources\crdlil.dll
%LOCALAPPDATA%\Smartbar\Application\Resources\crdlil64.dll
%LOCALAPPDATA%\Ap\MTResources\spdrmn.dll
%LOCALAPPDATA%\LPT\srptm.exe
%LOCALAPPDATA%\Smartbar\Application\SnapDo.exe
Remove Snap.do registry entries:
HKEY_LOCAL_MACHINE\Software\Microsoft\Internet Explorer\SearchScopes\{006ee092-9658-4fd6-bd8e-a21a348e59f5}
HKEY_LOCAL_MACHINE\Software\Smartbar
HKEY_LOCAL_MACHINE\Software\SmartbarBackup
HKEY_LOCAL_MACHINE\Software\SmartbarLog
HKEY_LOCAL_MACHINE\IESmartBar.DockingPanel
HKEY_LOCAL_MACHINE\IESmartBar.IESmartBar
HKEY_LOCAL_MACHINE\IESmartBar.IESmartBarBandObject
HKEY_LOCAL_MACHINE\IESmartBar.SmartbarMenuForm
HKEY_LOCAL_MACHINE\SOFTWARE\Wow6432Node\Microsoft\Tracing\smartbar_RASAPI32
HKEY_LOCAL_MACHINE\SOFTWARE\Wow6432Node\Microsoft\Tracing\smartbar_RASMANCS
HKEY_LOCAL_MACHINE\SOFTWARE\Wow6432Node\Microsoft\Tracing\SnapDo_RASAPI32
HKEY_LOCAL_MACHINE\SOFTWARE\Wow6432Node\Microsoft\Tracing\SnapDo_RASMANCS
HKEY_LOCAL_MACHINE\SOFTWARE\Classes\IESmartBar.BandObjectAttribute
HKEY_LOCAL_MACHINE\SOFTWARE\Classes\IESmartBar.SmartbarDisplayState
HKEY_LOCAL_MACHINE\SOFTWARE\Classes\IESmartBar.SmartbarMenuForm
HKEY_LOCAL_MACHINE\SOFTWARE\Microsoft\Tracing\SnapDo_RASAPI32
HKEY_LOCAL_MACHINE\SOFTWARE\Microsoft\Tracing\SnapDo_RASMANCS
HKEY_LOCAL_MACHINE\Software\Microsoft\Internet Explorer\Main\FeatureControl\FEATURE_BROWSER_EMULATION, value: SnapDo.exe
HKEY_LOCAL_MACHINE\Record\{181480C8-90AC-3430-B39A-CD121E034A1A}
HKEY_LOCAL_MACHINE\Software\Google\Chrome\Extensions\amfclgbdpgndipgoegfpkkgobahigbcl
HKEY_LOCAL_MACHINE\SOFTWARE\Wow6432Node\Microsoft\Windows\CurrentVersion\Uninstall\{754DA97B-8295-4C12-A424-C97F545BE2C1}
HKEY_LOCAL_MACHINE\Record\{2009AF2F-5786-3067-8799-B97F7832FDD6}
HKEY_LOCAL_MACHINE\Record\{425E7597-03A2-338D-B72A-0E51FFE77A7E}
HKEY_LOCAL_MACHINE\Record\{8F54FA54-1DF8-3B20-890C-CDD95364BC95}
HKEY_LOCAL_MACHINE\Record\{915BB7D5-082E-3B91-B1E0-45B5FDE01F24}
HKEY_LOCAL_MACHINE\Record\{FB2E65F4-5687-33EF-9BBF-4E3C9C98D3B9}
HKEY_LOCAL_MACHINE\SOFTWARE\Wow6432Node\Microsoft\Windows\CurrentVersion\Uninstall\{28439B3A-66D3-43AD-8C4A-21420B002CEA}
HKEY_LOCAL_MACHINE\Software\Microsoft\Windows\CurrentVersion\Ext\Settings\{31AD400D-1B06-4E33-A59A-90C2C140CBA0}
HKEY_LOCAL_MACHINE\Software\Microsoft\Windows\CurrentVersion\Ext\Settings\{AE07101B-46D4-4A98-AF68-0333EA26E113}
HKEY_LOCAL_MACHINE\Software\Microsoft\Windows\CurrentVersion\Ext\Stats\{31AD400D-1B06-4E33-A59A-90C2C140CBA0}
HKEY_LOCAL_MACHINE\Software\Microsoft\Windows\CurrentVersion\Ext\Stats\{AE07101B-46D4-4A98-AF68-0333EA26E113}
HKEY_LOCAL_MACHINE\Software\Microsoft\Installer\Products\5F22564E0D414C74886AD5A15B24BFAD
HKEY_LOCAL_MACHINE\Software\Microsoft\Installer\Features\5F22564E0D414C74886AD5A15B24BFAD
HKEY_LOCAL_MACHINE\Software\Microsoft\Installer\UpgradeCodes\5E8031606EB60A64C882918F8FF38DD4
HKEY_LOCAL_MACHINE\SOFTWARE\Wow6432Node\Microsoft\Windows\CurrentVersion\Uninstall\{6D6299A2-87B5-471A-B5DB-9259A4F97F12}
HKEY_LOCAL_MACHINE\SOFTWARE\Wow6432Node\Microsoft\Windows\CurrentVersion\Uninstall\{6FA71142-5ECD-460E-9490-43F48580BB44}
HKEY_LOCAL_MACHINE\Software\Microsoft\Installer\Features\24117AF6DCE5E0644909344F5808BB44
HKEY_LOCAL_MACHINE\Software\Microsoft\Installer\Products\24117AF6DCE5E0644909344F5808BB44
HKEY_LOCAL_MACHINE\Software\Microsoft\Internet Explorer\DOMStorage\snapdo.com
HKEY_LOCAL_MACHINE\SOFTWARE\Wow6432Node\Microsoft\Windows\CurrentVersion\Uninstall\{12D85DFB-576B-4643-A065-8FBB8B1F2EB1}
HKEY_LOCAL_MACHINE\Software\Microsoft\Internet Explorer\Main\FeatureControl\FEATURE_BROWSER_EMULATION, value: Smartbar.exe
HKEY_LOCAL_MACHINE\SOFTWARE\Wow6432Node\Microsoft\Windows\CurrentVersion\Uninstall\{E3CE881D-94D9-435A-9DEA-EBB5390BC2CC}
HKEY_LOCAL_MACHINE\Software\Microsoft\Installer\Products\D188EC3E9D49A534D9AEBE5B93B02CCC
HKEY_LOCAL_MACHINE\SOFTWARE\Microsoft\Windows\CurrentVersion\Uninstall\{E3CE881D-94D9-435A-9DEA-EBB5390BC2CC}
HKEY_LOCAL_MACHINE\Software\Microsoft\Windows\CurrentVersion\Uninstall\{01d8d174-f6aa-4d65-a3fe-c4c32aeb2b43}
HKEY_LOCAL_MACHINE\SOFTWARE\Classes\Record\{FB2E65F4-5687-33EF-9BBF-4E3C9C98D3B9}
HKEY_LOCAL_MACHINE\SOFTWARE\Classes\Record\{181480C8-90AC-3430-B39A-CD121E034A1A}
HKEY_LOCAL_MACHINE\SOFTWARE\Classes\Record\{8F54FA54-1DF8-3B20-890C-CDD95364BC95}
HKEY_LOCAL_MACHINE\SOFTWARE\Classes\Record\{915BB7D5-082E-3B91-B1E0-45B5FDE01F24}
HKEY_LOCAL_MACHINE\Software\Microsoft\Internet Explorer\ApprovedExtensionsMigration, value: {AE07101B-46D4-4A98-AF68-0333EA26E113}
HKEY_LOCAL_MACHINE\.DEFAULT\Software\Microsoft\Internet Explorer\SearchScopes\{006ee092-9658-4fd6-bd8e-a21a348e59f5}
HKEY_LOCAL_MACHINE\SOFTWARE\Google\Chrome\NativeMessagingHosts\sb.host
HKEY_LOCAL_MACHINE\SOFTWARE\Wow6432Node\Google\Chrome\NativeMessagingHosts\sb.host
HKEY_LOCAL_MACHINE\SOFTWARE\Microsoft\Windows\CurrentVersion\Installer\UpgradeCodes\47DAF77F4EB85684BBAB9BA5EA000721
HKEY_LOCAL_MACHINE\Software\Microsoft\Installer\UpgradeCodes\47DAF77F4EB85684BBAB9BA5EA000721
HKEY_LOCAL_MACHINE\Software\Microsoft\Installer\Features\363FB0CBBA367FF4E81FEAD0F717B142
HKEY_LOCAL_MACHINE\Software\Microsoft\Installer\Products\363FB0CBBA367FF4E81FEAD0F717B142
HKEY_LOCAL_MACHINE\Software\Microsoft\Installer\Features\35D1D71731679C14B98622199B2208D3
HKEY_LOCAL_MACHINE\Software\Microsoft\Installer\Products\35D1D71731679C14B98622199B2208D3
HKEY_LOCAL_MACHINE\Software\Microsoft\Installer\Features\D18D56BAA303BDD4CAC7219CDCF976BF
HKEY_LOCAL_MACHINE\Software\Microsoft\Installer\Products\D18D56BAA303BDD4CAC7219CDCF976BF
HKEY_LOCAL_MACHINE\SOFTWARE\Wow6432Node\Microsoft\Internet Explorer\SearchScopes\{006ee092-9658-4fd6-bd8e-a21a348e59f5}
HKEY_LOCAL_MACHINE\Software\Microsoft\Installer\Features\7588A79F83A29EC45AA30FE794F1D28A
HKEY_LOCAL_MACHINE\Software\Microsoft\Installer\Features\104BD2400FF24D34A91D795A4EC18F46
HKEY_LOCAL_MACHINE\Software\Microsoft\Installer\Products\104BD2400FF24D34A91D795A4EC18F46
HKEY_LOCAL_MACHINE\SOFTWARE\Wow6432Node\Microsoft\Tracing\FRGSmartbar_RASAPI32
HKEY_LOCAL_MACHINE\SOFTWARE\Wow6432Node\Microsoft\Tracing\FRGSmartbar_RASMANCS
HKEY_LOCAL_MACHINE\SOFTWARE\Microsoft\Tracing\FRGSmartbar_RASAPI32
HKEY_LOCAL_MACHINE\SOFTWARE\Wow6432Node\Microsoft\Tracing\ShowPass_RASAPI32
HKEY_LOCAL_MACHINE\SOFTWARE\Microsoft\Tracing\ShowPass_RASAPI32
HKEY_LOCAL_MACHINE\SOFTWARE\Wow6432Node\Microsoft\Tracing\ShowPass_RASMANCS
HKEY_LOCAL_MACHINE\SOFTWARE\Microsoft\Tracing\ShowPass_RASMANCS
HKEY_LOCAL_MACHINE\Software\Microsoft\Internet Explorer\Main\FeatureControl\FEATURE_BROWSER_EMULATION, value: ShowPass.exe
HKEY_LOCAL_MACHINE\Software\Microsoft\Internet Explorer\DOMStorage\browse-search.com
HKEY_LOCAL_MACHINE\SYSTEM\CurrentControlSet\services\ToolGet
HKEY_LOCAL_MACHINE\SYSTEM\ControlSet002\services\ToolGet
HKEY_LOCAL_MACHINE\SYSTEM\ControlSet001\services\ToolGet
HKEY_LOCAL_MACHINE\SOFTWARE\Microsoft\Tracing\ToolGet_RASMANCS
HKEY_LOCAL_MACHINE\SOFTWARE\Wow6432Node\Microsoft\Tracing\ToolGet_RASMANCS
HKEY_LOCAL_MACHINE\SOFTWARE\Microsoft\Tracing\ToolGet_RASAPI32
HKEY_LOCAL_MACHINE\SOFTWARE\Wow6432Node\Microsoft\Tracing\ToolGet_RASAPI32
HKEY_LOCAL_MACHINE\SOFTWARE\Microsoft\Windows\CurrentVersion\App Paths\ToolGet
HKEY_LOCAL_MACHINE\Environment, value: SNP
HKEY_LOCAL_MACHINE\Environment, value: SNF
HKEY_LOCAL_MACHINE\SOFTWARE\Microsoft\Tracing\SnapDo_run_RASMANCS
HKEY_LOCAL_MACHINE\SOFTWARE\Microsoft\Tracing\SnapDo_run_RASAPI32
HKEY_LOCAL_MACHINE\SOFTWARE\Wow6432Node\Microsoft\Tracing\SnapDo_run_RASMANCS
HKEY_LOCAL_MACHINE\SYSTEM\ControlSet001\services\SnapDo
HKEY_LOCAL_MACHINE\SOFTWARE\Microsoft\Tracing\Snap_RASAPI32
HKEY_LOCAL_MACHINE\SYSTEM\CurrentControlSet\services\Villatop
HKEY_LOCAL_MACHINE\SYSTEM\ControlSet002\services\Villatop
HKEY_LOCAL_MACHINE\SYSTEM\ControlSet001\services\Villatop
HKEY_LOCAL_MACHINE\SOFTWARE\Microsoft\Tracing\Villatop_RASMANCS
HKEY_LOCAL_MACHINE\SOFTWARE\Wow6432Node\Microsoft\Tracing\Villatop_RASMANCS
HKEY_LOCAL_MACHINE\SOFTWARE\Microsoft\Tracing\Villatop_RASAPI32
HKEY_LOCAL_MACHINE\SOFTWARE\Wow6432Node\Microsoft\Tracing\Villatop_RASAPI32
HKEY_LOCAL_MACHINE\SOFTWARE\Microsoft\Windows\CurrentVersion\App Paths\Villatop
HKEY_LOCAL_MACHINE\SOFTWARE\Microsoft\Internet Explorer\SearchScopes\{ielnksrch}
HKEY_LOCAL_MACHINE\SOFTWARE\Wow6432Node\mtMedlight
HKEY_LOCAL_MACHINE\Software\mtMedlight
HKEY_LOCAL_MACHINE\SOFTWARE\Wow6432Node\Microsoft\Windows NT\CurrentVersion\Image File Execution Options\Medlight.exe
HKEY_LOCAL_MACHINE\SOFTWARE\Microsoft\Windows NT\CurrentVersion\Image File Execution Options\Medlight.exe
HKEY_LOCAL_MACHINE\SOFTWARE\Wow6432Node\Microsoft\Windows NT\CurrentVersion\SilentProcessExit\Medlight.exe
HKEY_LOCAL_MACHINE\SOFTWARE\Microsoft\Windows NT\CurrentVersion\SilentProcessExit\Medlight.exe
HKEY_LOCAL_MACHINE\SYSTEM\ControlSet001\services\Medlight
HKEY_LOCAL_MACHINE\SOFTWARE\Microsoft\Tracing\Smartbar_RASMANCS
HKEY_LOCAL_MACHINE\SOFTWARE\Microsoft\Tracing\Smartbar_RASAPI32
HKEY_LOCAL_MACHINE\SOFTWARE\Wow6432Node\Microsoft\Internet Explorer\SearchScopes\{ielnksrch}
HKEY_LOCAL_MACHINE\Software\mtViatax
HKEY_LOCAL_MACHINE\SOFTWARE\Microsoft\Tracing\Ronzap_RASAPI32
HKEY_LOCAL_MACHINE\SOFTWARE\Microsoft\Tracing\Ronzap_RASMANCS
HKEY_LOCAL_MACHINE\SOFTWARE\Wow6432Node\Microsoft\Tracing\Ronzap_RASMANCS
HKEY_LOCAL_MACHINE\Software\[APPLICATION]\Microsoft\Windows\CurrentVersion\Uninstaller\{754DA97B-8295-4C12-A424-C97F545BE2C1}
HKEY_LOCAL_MACHINE\Software\[APPLICATION]\Microsoft\Windows\CurrentVersion\Uninstaller\{28439B3A-66D3-43AD-8C4A-21420B002CEA}
HKEY_LOCAL_MACHINE\Software\[APPLICATION]\Microsoft\Windows\CurrentVersion\Uninstaller\{E46522F5-14D0-47C4-88A6-5D1AB542FBDA}
HKEY_LOCAL_MACHINE\Software\[APPLICATION]\Microsoft\Windows\CurrentVersion\Uninstaller\{6D6299A2-87B5-471A-B5DB-9259A4F97F12}
HKEY_LOCAL_MACHINE\Software\[APPLICATION]\Microsoft\Windows\CurrentVersion\Uninstaller\{6FA71142-5ECD-460E-9490-43F48580BB44}
HKEY_LOCAL_MACHINE\Software\[APPLICATION]\Microsoft\Windows\CurrentVersion\Uninstaller\{12D85DFB-576B-4643-A065-8FBB8B1F2EB1}
HKEY_LOCAL_MACHINE\Software\[APPLICATION]\Microsoft\Windows\CurrentVersion\Uninstaller\{BC0BF363-63AB-4FF7-8EF1-AE0D7F711B24}
HKEY_LOCAL_MACHINE\Software\[APPLICATION]\Microsoft\Windows\CurrentVersion\Uninstaller\{FB385922-2E32-4462-A7DC-27159614A660}
HKEY_LOCAL_MACHINE\Software\[APPLICATION]\Microsoft\Windows\CurrentVersion\Uninstaller\{a52359df-0e4b-482f-80e6-d48ce3e13593}
HKEY_LOCAL_MACHINE\Software\[APPLICATION]\Microsoft\Windows\CurrentVersion\Uninstaller\{AB65D81D-303A-4DDB-AC7C-12C9CD9F67FB}
HKEY_LOCAL_MACHINE\Software\[APPLICATION]\Microsoft\Windows\CurrentVersion\Uninstaller\{35140f4a-349c-47cb-b176-0b7d75aee69a}
HKEY_LOCAL_MACHINE\Software\[APPLICATION]\Microsoft\Windows\CurrentVersion\Uninstaller\{08dfc13f-9c9e-47ba-8c19-436f01b93131}
HKEY_LOCAL_MACHINE\Software\[APPLICATION]\Microsoft\Windows\CurrentVersion\Uninstaller\{b1a8a81b-f347-48b9-8015-5e69d78731c1}
HKEY_LOCAL_MACHINE\Software\[APPLICATION]\Microsoft\Windows\CurrentVersion\Uninstaller\{F97A8857-2A38-4CE9-A53A-F07E491F2DA8}
HKEY_LOCAL_MACHINE\Software\[APPLICATION]\Microsoft\Windows\CurrentVersion\Uninstaller\{5d6b1888-2812-4739-bab8-489c316786c5}
HKEY_LOCAL_MACHINE\Software\[APPLICATION]\Microsoft\Windows\CurrentVersion\Uninstaller\{8956ABAC-F1A3-4AED-9D71-10C9084C081D}
HKEY_LOCAL_MACHINE\Software\[APPLICATION]\Microsoft\Windows\CurrentVersion\Uninstaller\{BDAF93B9-566F-4C94-A102-980F2805B306}
HKEY_LOCAL_MACHINE\Software\[APPLICATION]\Microsoft\Windows\CurrentVersion\Uninstaller\{4359e553-bc84-46a7-be9c-29cdb40179f3}
HKEY_LOCAL_MACHINE\Software\[APPLICATION]\Microsoft\Windows\CurrentVersion\Uninstaller\{F38B999F-0792-4434-82B9-6337E1856249}
HKEY_LOCAL_MACHINE\Software\[APPLICATION]\Microsoft\Windows\CurrentVersion\Uninstaller\{5AEB9B81-6731-4AA0-8C34-3019F8592675}
HKEY_LOCAL_MACHINE\Software\[APPLICATION]\Microsoft\Windows\CurrentVersion\Uninstaller\{254006BC-97DE-4C82-A1A1-A2BAD2520083}
HKEY_LOCAL_MACHINE\Software\[APPLICATION]\Microsoft\Windows\CurrentVersion\Uninstaller\{496E1034-8FA9-4227-B74A-AF468A6A1D78}
HKEY_LOCAL_MACHINE\Software\[APPLICATION]\Microsoft\Windows\CurrentVersion\Uninstaller\{50116E58-B2E8-420A-90C3-4318CEA5C600}
HKEY_LOCAL_MACHINE\Software\[APPLICATION]\Microsoft\Windows\CurrentVersion\Uninstaller\{AD5D1F6A-CCF9-48C9-8BEC-4C22977824CB}