What is Delta Search?
Delta Search is a browser add-on that affects browser settings by installing a toolbar and changing the main page. While it may look as an innocuous expanding of search functions, we recommend neither using a toolbar, nor performing a search on the www.delta-search.com page, as they both are parts of the Delta hijacker. And hijackers usually amend search results in order to promote third-party sites and services. Therefore victim would visit unwanted sources, which may lead to getting more infections. To prevent that you need to remove Delta Search as the source of dangers.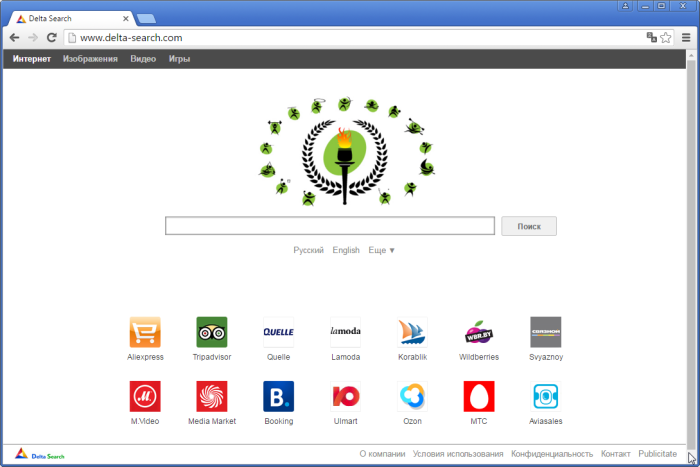 How Delta Search got installed on your computer?
To infiltrate a computer Delta Search uses a circumspect technique of bundling, so it doesn't need user's permission. Though bundled applications are easy to opt out, not many users notice them and are aware of such possibility. Downloading and installing applications from dubious sources promiscuously often results in getting malware. To avoid it one should be more careful in choosing what and how to install. If there are two installation options: Default and Advanced, select Advanced, and check if it has statements about additional software. Then you'll simply need to deselect the applications that arouse mistrust.
Symptoms of Delta Search infection
First and the most striking proof of having a browser hijacker is change of the main page. Usually it is a search engine page that is designed so that user would believe in its legitimacy.
Generally, hijackers cause redirections when user makes a search query on its page or tries to reach a blocked site (usually another search engine or anti-malware sites)
Another indicator of hijacker infection is appearance of new programs, toolbars and browser extensions that you don't remember installing and processes in start-up queue.
Also, you may notice the significant slowdown in the system operating, since running of the applications required for malware activity may consume a lot of CPU.
Besides, hijacker infection may as well negatively affect the speed of Internet connection.
---
How to remove Delta Search?
To make sure that the hijacker won't appear again, you need to delete Delta Search completely. For this you need to remove the application from the Control Panel and then check the drives for such leftovers as Delta Search files and registry entries.
We should warn you that performing some of the steps may require above-average skills, so if you don't feel experienced enough, you may apply to automatic removal tool.
Performing an antimalware scan with Norton would automatically search out and delete all elements related to Delta Search. It is not only the easiest way to eliminate Delta Search, but also the safest and most assuring one.
---
Steps of Delta Search manual removal
Uninstall Delta Search from Control Panel
As it was stated before, more likely that the hijacker appeared on your system brought by other software. So, to get rid of Delta Search you need to call to memory what you have installed recently.
How to remove Delta Search from Windows XP
Click the Start button and open Control Panel
Go to Add or Remove Programs
Find the application related to Delta Search and click Uninstall
How to remove Delta Search from Windows 7/Vista
Click the Start button and open Control Panel
Go to Uninstall Program
Find the application related to Delta Search and click Uninstall
How to remove Delta Search from Windows 8/8.1
Right-click the menu icon in left bottom corner
Choose Control Panel
Select the Uninstall Program line
Uninstall the application related to Delta Search
How to remove Delta Search from Windows 10
Press Win+X to open Windows Power menu
Click Control Panel
Choose Uninstall a Program
Select the application related to Delta Search and remove it
---

If you experience problems with removing Delta Search from Control Panel: there is no such title on the list, or you receive an error preventing you from deleting the application, see the article dedicated to this issue.
Read what to do if program won't uninstall from Control Panel
---
Remove Delta Search from browsers
Since some of hijacker threats use a disguise of a browser add-on, you will need to check the list of extensions/add-ons in your browser.
How to remove Delta Search from Google Chrome
Start Google Chrome
Click on Tools, then go to the Extensions
Delete Delta Search or other extensions that look suspicious and you don't remember installing them
How to remove Delta Search from Internet Explorer
Launch Internet Explorer
Click on the Tools/Gear icon, then select Manage Add-ons
Delete Delta Search or other extensions that look suspicious and you don't remember installing them
How to remove Delta Search from Mozilla Firefox
Start Mozilla Firefox
Click on the right-upper corner button
Click Add-ons, then go to Extensions
Delete Delta Search or other extensions that look suspicious and you don't remember installing them
Reset your browsers
How to reset settings in Google Chrome
Click on the icon in the right-upper corner
Choose Settings
Click Show advanced settings
Click the Reset Settings button
How to reset settings in Mozilla Firefox
Click the icon in the upper right corner
Choose Help
Select Troubleshooting Information
Click the Reset Firefox… button
How to reset settings in Internet Explorer
Click on the Tools button
Go to Internet options
Go to the Advanced tab
Click Reset
Delete files and registry entries added by Delta Search
Sometimes removal via Control Panel is not enough since the built-in application can leave some files that shortly will restore the hijacker. So, you need to find all of the following items and delete them
Remove Delta Search files and folders:
C:\Program Files\Delta\delta\1.8.10.0\uninstall.exe
C:\Program Files\Delta\delta\1.8.10.0\deltaTlbr.dll
C:\Program Files\Delta\delta\1.8.10.0\bh\delta.dll
C:\Documents and Settings\[USERNAME]\Local Settings\Temp\SetupUpdater.exe
C:\Documents and Settings\[USERNAME]\Local Settings\Temp\SearchComponent_Offer_0.exe
C:\Documents and Settings\[USERNAME]\Application Data\BabSolution\Shared\BUSUninstall.exe
C:\Documents and Settings\[USERNAME]\Local Settings\Temp\426FA64D-BAB0-7891-818B-9FE871D27EE4\Latest\Setup.exe
C:\Documents and Settings\[USERNAME]\Local Settings\Temp\426FA64D-BAB0-7891-818B-9FE871D27EE4\Latest\CrxInstaller.dll
C:\Documents and Settings\[USERNAME]\Local Settings\Temp\426FA64D-BAB0-7891-818B-9FE871D27EE4\IEHelper.dll
C:\Program Files\Delta\delta\1.8.10.0\GUninstaller.exe
C:\Program Files\Delta\delta\1.8.10.0\deltasrv.exe
C:\Program Files\Delta\delta\1.8.10.0\deltaEng.dll
C:\Documents and Settings\All Users\Application Data\BrowserProtect\2.6.1125.80\[c16c1ccb-7046-4e5c-a2f3-533ad2fec8e8]\BrowserProtect.dll
C:\Documents and Settings\[USERNAME]\Local Settings\Temp\nsl47.tmp\Time.dll
C:\Documents and Settings\[USERNAME]\Local Settings\Temp\DeltaTB.exe
C:\Documents and Settings\[USERNAME]\Application Data\BabSolution\Shared\BabMaint.exe
C:\Documents and Settings\[USERNAME]\Local Settings\Temp\426FA64D-BAB0-7891-818B-9FE871D27EE4\Latest\ChromeToolbarSetup.dll
C:\Documents and Settings\[USERNAME]\Local Settings\Temp\426FA64D-BAB0-7891-818B-9FE871D27EE4\BExternal.dll
C:\Documents and Settings\All Users\Application Data\BrowserProtect\2.6.1125.80\[c16c1ccb-7046-4e5c-a2f3-533ad2fec8e8]\uninstall.exe
C:\Documents and Settings\All Users\Application Data\BrowserProtect\2.6.1125.80\[c16c1ccb-7046-4e5c-a2f3-533ad2fec8e8]\FirefoxExtension\components\BrowserProtect-19.0.dll
C:\Program Files\Delta\delta\1.8.10.0\escortShld.dll
C:\Program Files\Delta\delta\1.8.10.0\deltaApp.dll
C:\Documents and Settings\All Users\Application Data\BrowserProtect\2.6.1125.80\[c16c1ccb-7046-4e5c-a2f3-533ad2fec8e8]\BrowserProtect.exe
C:\Documents and Settings\[USERNAME]\Local Settings\Temp\SetupAuto.exe
C:\Documents and Settings\[USERNAME]\Local Settings\Temp\MainProduct.exe
C:\Documents and Settings\[USERNAME]\Application Data\BabSolution\Shared\BUSolution.dll
C:\Documents and Settings\[USERNAME]\Local Settings\Temp\426FA64D-BAB0-7891-818B-9FE871D27EE4\Latest\MyBabylonTB.exe
C:\Documents and Settings\[USERNAME]\Application Data\BabSolution\Shared\GUninstaller.exe
C:\Documents and Settings\[USERNAME]\Local Settings\Temp\426FA64D-BAB0-7891-818B-9FE871D27EE4\Latest\ccp.exe
C:\Documents and Settings\All Users\Application Data\BrowserProtect\2.6.1125.80\[c16c1ccb-7046-4e5c-a2f3-533ad2fec8e8]\BrowserProtect.settings
C:\Documents and Settings\[USERNAME]\Application Data\BabSolution\CR\Delta.crx
C:\WINDOWS\Tasks\BrowserProtect.job
C:\Documents and Settings\[USERNAME]\Start Menu\Programs\BrowserProtect\Uninstall BrowserProtect.lnk
C:\Documents and Settings\All Users\Application Data\BrowserProtect\2.6.1125.80\[c16c1ccb-7046-4e5c-a2f3-533ad2fec8e8]\FirefoxExtension\content\BrowserProtect.js
C:\Documents and Settings\All Users\Application Data\BrowserProtect\2.6.1125.80\[c16c1ccb-7046-4e5c-a2f3-533ad2fec8e8]\FirefoxExtension\components\BrowserProtect-3.6.xpt
C:\Documents and Settings\All Users\Application Data\BrowserProtect\2.6.1125.80\[c16c1ccb-7046-4e5c-a2f3-533ad2fec8e8]\BrowserProtect.crx
C:\Documents and Settings\[USERNAME]\Local Settings\Temp\426FA64D-BAB0-7891-818B-9FE871D27EE4\Latest\delta.crx
Remove Delta Search registry entries:
HKEY_LOCAL_MACHINE\SYSTEM\CurrentControlSet\Services\BrowserProtect
HKEY_LOCAL_MACHINE\SOFTWARE\Babylon
HKEY_LOCAL_MACHINE\SOFTWARE\Delta
HKEY_LOCAL_MACHINE\SOFTWARE\Classes\CLSID\[261DD098-8A3E-43D4-87AA-63324FA897D8]
HKEY_LOCAL_MACHINE\SOFTWARE\Classes\AppID\esrv.EXE
HKEY_LOCAL_MACHINE\SOFTWARE\Classes\AppID\escortApp.DLL
HKEY_CURRENT_USE\S-1-5-21-329068152-1390067357-682003330-500\Software\Microsoft\Internet Explorer\SearchScopes\[0ECDF796-C2DC-4d79-A620-CCE0C0A66CC9]
HKEY_CURRENT_USE\S-1-5-21-329068152-1390067357-682003330-500\Software\BabylonToolbar
HKEY_LOCAL_MACHINE\SYSTEM\ControlSet001\Enum\Root\LEGACY_BROWSERPROTECT
HKEY_LOCAL_MACHINE\SOFTWARE\DataMngr
HKEY_LOCAL_MACHINE\SOFTWARE\Microsoft\Windows\CurrentVersion\Explorer\Browser Helper Objects\[1185823F-F22F-4027-80E5-4F68ACD5DE5E]
HKEY_LOCAL_MACHINE\SOFTWARE\Classes\Interface\[F05B12E1-ADE8-4485-B45B-898748B53C37]
HKEY_LOCAL_MACHINE\SOFTWARE\Classes\AppID\[09C554C3-109B-483C-A06B-F14172F1A947]
HKEY_LOCAL_MACHINE\SOFTWARE\Classes\AppID\escortEng.DLL
HKEY_LOCAL_MACHINE\SOFTWARE\e2dfddb338e846
HKEY_CURRENT_USE\S-1-5-21-329068152-1390067357-682003330-500\Software\DataMngr
HKEY_CURRENT_USE\S-1-5-21-329068152-1390067357-682003330-500\Software\Delta
HKEY_LOCAL_MACHINE\SYSTEM\CurrentControlSet\Enum\Root\LEGACY_BROWSERPROTECT
HKEY_LOCAL_MACHINE\SYSTEM\ControlSet001\Services\BrowserProtect
HKEY_LOCAL_MACHINE\SOFTWARE\Microsoft\Windows\CurrentVersion\Explorer\Browser Helper Objects\[C1AF5FA5-852C-4C90-812E-A7F75E011D87]
HKEY_LOCAL_MACHINE\SOFTWARE\Classes\d
HKEY_LOCAL_MACHINE\SOFTWARE\Classes\AppID\[39CB8175-E224-4446-8746-00566302DF8D]
HKEY_LOCAL_MACHINE\SOFTWARE\Classes\AppID\escorTlbr.DLL
HKEY_LOCAL_MACHINE\SOFTWARE\Classes\AppID\escort.DLL
HKEY_CURRENT_USE\S-1-5-21-329068152-1390067357-682003330-500\Software\Microsoft\Windows\CurrentVersion\Ext\bProtectSettings
HKEY_CURRENT_USE\S-1-5-21-329068152-1390067357-682003330-500\Software\Microsoft\Windows\CurrentVersion\Ext\Stats\[D27CDB6E-AE6D-11CF-96B8-444553540000]\iexplore\AllowedDomains\delta-search.com