What is Segurazo?
Segurazo is a bogus software which is presented as innovative antivirus providing "security services such as real-time protection, precise threat-detection, superior protection of private data, and so on". The "antivirus" may end up on your computer if a user does not decline optional "Segurazo Antivirus" while installing some freeware downloaded from the Internet. Once installed, it starts corrupting system configuration by adding new processes in Task Manager and flooding your computer with numerous questionable programs. All this not only overloads PC' memory causing it to freeze but also compromise system security and privacy. Considering everything stated above, it's a good decision to remove Segurazo once and for all. However, it's not so easy since the malware has the ability to reinstall itself after the wrong removal. Therefore, to do this properly, read our step-by-step guide.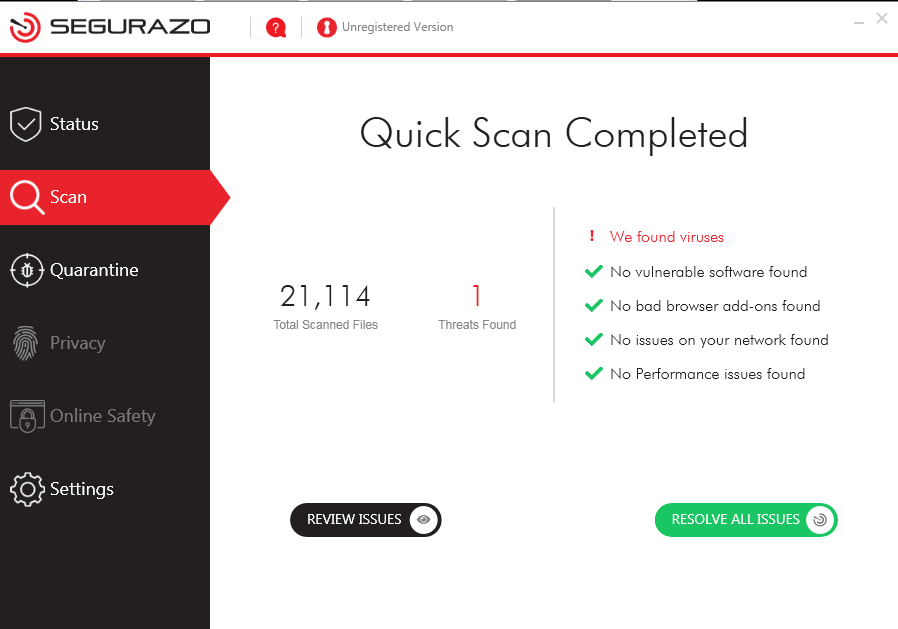 How Segurazo got installed on your computer?
As a matter of fact applications of the same nature are all alike and have similar ways of distribution. Usually, they have official promoting sites wherefrom they can be downloaded. A trial version of the program can be also found inside some dubious setups, where it is put especially to be concealed from users' eyes. Since this method is the most frequent, we would like to say some words about preventing such installations. First of all, avoid shady download site offering free software of unknown origin – very often they are malicious themselves or carry a malicious setup. Another piece of advice is to check the presence of malware in Advanced (Custom) installation modes. And finally, when given a list of setup components decline those that look malicious.
---
How to remove Segurazo?
To delete Segurazo completely you need to remove the application from the Control Panel and then check the drives for such leftovers as Segurazo files and registry entries.
We should warn you that performing some of the steps may require above-average skills, so, if you don't feel experienced enough, you may apply to automatic removal tool.
Performing an antimalware scan with Norton would automatically search out and delete all elements related to Segurazo. It is not only the easiest way to eliminate Segurazo, but also the safest and most assuring one.
Steps of Segurazo manual removal
Uninstall Segurazo from Control Panel
You could have downloaded the program yourself but, as it was stated before, more likely that the rogue application appeared on your system brought with other software. So, to get rid of Segurazo you need to call to memory what you have installed recently.
How to remove Segurazo from Windows XP
Click the Start button and open Control Panel
Go to Add or Remove Programs
Find the application related to Segurazo and click Uninstall
How to remove Segurazo from Windows 7/Vista
Click the Start button and open Control Panel
Go to Uninstall Program
Find the application related to Segurazo and click Uninstall
How to remove Segurazo from Windows 8/8.1
Right-click the menu icon in left bottom corner
Choose Control Panel
Select the Uninstall Program line
Uninstall the application related to Segurazo
How to remove Segurazo from Windows 10
Press Win+X to open Windows Power menu
Click Control Panel
Choose Uninstall a Program
Select the application related to Segurazo and remove it
---

If you experience problems with removing Segurazo from Control Panel: there is no such title on the list, or you receive an error preventing you from deleting the application, see the article dedicated to this issue. Read what to do if program won't uninstall from Control Panel
---