What is KMSPico?
KMSpico is a tool that is forced as a Windows activator from which users shouldn't expect anything positive. Nevertheless, many sources claim that the application is highly malicious and dangerous as it can open backdoors for other threats. Usually it attracts users who want to get commercial software, including Windows systems, for free, so victims themselves invite malware components into their PCs. Besides, KMSpico asks to disable all security applications before installation, which looks highly suspicious. We don't recommend using KMSpico or applications alike, as first, it raises the dangers of virus infections and second – it offends against the laws of digital piracy. Thus, we strongly advise to remove KMSpico and the malware installed alongside with it from your system.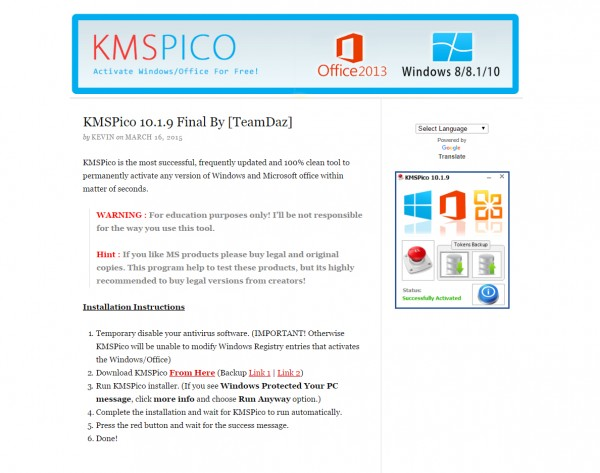 How KMSPico got installed on your computer?
The KMSpico application is not harmful by its nature, though it is closely related to malware infections. That's why it is often described as a legitimate helpful program that saves users' money, for this reason it's no surprise that victims of this rogue application download it willingly. Still, this is not the extent of the KMSpico distributional techniques – on a more frequent basis the application gets into computers as a part of bundled software packages. So, we appeal not to rush through installations and select Advanced/Custom settings to see all options and to be able to opt out the unwanted components.
---
How to remove KMSPico?
To delete KMSPico completely you need to remove the application from the Control Panel and then check the drives for such leftovers as KMSPico files and registry entries.
We should warn you that performing some of the steps may require above-average skills, so, if you don't feel experienced enough, you may apply to automatic removal tool.
Performing an antimalware scan with Norton would automatically search out and delete all elements related to KMSPico. It is not only the easiest way to eliminate KMSPico, but also the safest and most assuring one.
Steps of KMSPico manual removal
Uninstall KMSPico from Control Panel
You could have downloaded the program yourself but, as it was stated before, more likely that the rogue application appeared on your system brought with other software. So, to get rid of KMSPico you need to call to memory what you have installed recently.
How to remove KMSPico from Windows XP
Click the Start button and open Control Panel
Go to Add or Remove Programs
Find the application related to KMSPico and click Uninstall
How to remove KMSPico from Windows 7/Vista
Click the Start button and open Control Panel
Go to Uninstall Program
Find the application related to KMSPico and click Uninstall
How to remove KMSPico from Windows 8/8.1
Right-click the menu icon in left bottom corner
Choose Control Panel
Select the Uninstall Program line
Uninstall the application related to KMSPico
How to remove KMSPico from Windows 10
Press Win+X to open Windows Power menu
Click Control Panel
Choose Uninstall a Program
Select the application related to KMSPico and remove it
---

If you experience problems with removing KMSPico from Control Panel: there is no such title on the list, or you receive an error preventing you from deleting the application, see the article dedicated to this issue.
Read what to do if program won't uninstall from Control Panel
---
Delete files and registry entries added by KMSPico
Sometimes removal via Control Panel is not enough since the built-in application can leave some files. So, you need to find all of the following items and delete them.
Remove KMSPico files and folders:
C:\Program Files\KMSpico\
DevComponents.DotNetBar2.dll
Service_KMS.exe
AutoPico.exe
unins000.exe
unins001.exe
WdfCoInstaller01009.dll
WinDivert.dll
WinDivert.sys
IPAddressControlLib.dll
TriggerKMS.exe
UninsHs.exe
Vestris.ResourceLib.dll