What is error 0xc1900223
0xc1900223 is a system error that may pop up while updating Windows 10 to v.1903. This indicates that there was a problem downloading and installing the selected update. It usually looks like this: once the update is downloaded, Windows prepares to install it, gets to 88%, then fails. The causes of the problem may be different: bugs in Windows updates, incorrectly configured system settings, corrupted registry entries, and other similar major issues. In this guide, we will show you how to quickly and easily solve the problem associated with feature update to Windows 10, version 1903 – error 0xc1900223.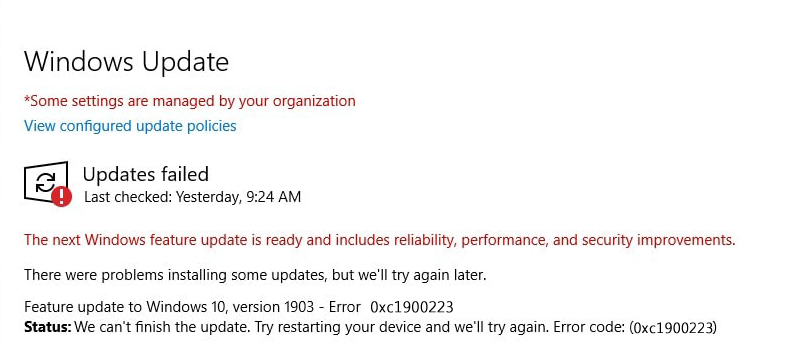 Automatic solution
Repairing system errors maybe not an easy task, so we should warn you that performing some of the steps may require above-average skills, so if you don't feel experienced enough, you may apply to the automatic tool.
The Advanced System Repair is an all-in-one tool for users who want to forget about numerous system issues like error 0xc1900223 on Windows 10. All you need to is to launch it, the program itself will find and fix all detected problems automatically.
Or you may use manual methods:
Solution 1: Update manually via Media Creation Tool
To obtain Media Creation Tool, follow this link
Click Download tool now

Launch MediaCreationTool, select Upgrade This PC Now, and click Next

The Windows will automatically start downloading and installing the latest updates. In most cases, that should take care of your problems.
---
Solution 2
If previos method didn't work, try using Microsoft support article to fix update issues
---

As we stated before, you can follow the solutions provided by this guide at your own risk. In case if you don't feel experienced enough, you may apply to the automatic tool.