What is CryptFIle2 ransomware?
CryptFIle2 ransomware belongs to a group of malware that is developed to cipher valuable personal information and then extort money by claiming a ransom in return of the data. The ransomware infiltrates the systems stealthily and then begins to rewrite the files. And only after the process of encryption the victim gets a notification about infection, in which the schemers state their demands. If this threat has affected your system and encrypted your personal files, you should pay the money under no circumstances, unless you want to encourage the cybercriminals to further malware creation. As an alternative we offer to use this guide to remove CryptFile2 ransomware and decrypt .scl files on your own.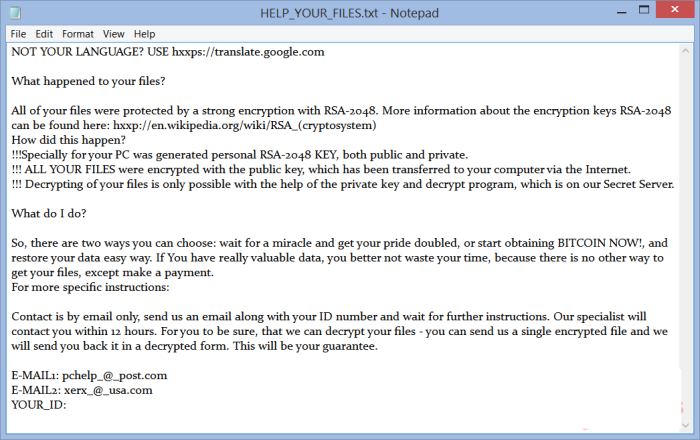 The text of the message states:
NOT YOUR LANGUAGE? USE hxxps://translate.google.com
What happened to your files?
All of your files were protected by a strong encryption with RSA-2048. More information about the encryption keys RSA-2048 can be found here: hxxp://en.wikipedia.org/wiki/RSA_(cryptosystem)
How did this happen?
!!!Specially for your PC was generated personal RSA-2048 KEY, both public and private.
!!! ALL YOUR FILES were encrypted with the public key, which has been transferred to your computer via the Internet.
!!! Decrypting of your files is only possible with the help of the private key and decrypt program, which is on our Secret Server.
What do I do?
So, there are two ways you can choose: wait for a miracle and get your pride doubled, or start obtaining BITCOIN NOW!, and restore your data easy way. If You have really valuable data, you better not waste your time, because there is no other way to get your files, except make a payment.
For more specific instructions:
Contact is by email only, send us an email along with your ID number and wait for further instructions. Our specialist will contact you within 12 hours. For you to be sure, that we can decrypt your files – you can send us a single encrypted file and we will send you back it in a decrypted form. This will be your guarantee.
E-MAIL1: pchelp_@_post.com
E-MAIL2: xerx_@_usa.com
YOUR_ID:
How CryptFIle2 ransomware got installed on your computer
Your system may get the CryptFIle2 ransomware infection in the result of you using peer-to-peer sharing networks and torrent services. Another frequently used distribution channel is spam emails. Typically, they look like a genuine business or governmental letter that asks to see the details in an attachment, that usually is a zip folder or doc file. Be careful while receiving the letters from an unknown sender and always scan the attachments with antimalware and antivirus programs.
What to do if your PC is infected with CryptFIle2 ransomware
As soon as you notice the presence of the ransomware on your system, you should turn your computer off. If it is possible try to create a backup or image of your hard drive info. This may let you to reserve the state of your drives in case a decryption method would be created afterwards.
Symptoms of CryptFIle2 ransomware infection
It's difficult not to notice ransomware, since it often has one of the processes responsible for displaying a notification message. This window blocks the screen leaving the user minimum alternatives. Besides, some files will be inaccessible, as in many cases ransomware encrypts them to exasperate the scaring effect.
How to remove CryptFIle2 ransomware?
To make sure that the adware won't reappear, you need to delete CryptFIle2 ransomware completely. For this you need to remove the files and registry entries of the ransomware. We should warn you that performing some of the steps may require above-average skills, so if you don't feel experienced enough, you may apply to automatic removal tool.
Performing an antimalware scan with Norton would automatically search out and delete all elements related to CryptFIle2 ransomware. It is not only the easiest way to eliminate CryptFIle2 ransomware, but also the safest and the most assuring one.
Steps of CryptFIle2 ransomware manual removal
Restart Windows in Safe Mode
For Windows XP:
Restart the system
While computer is rebooting press F8 several times
In the appeared list of options choose Safe Mode
For Windows 7 and Vista:
Restart the system
While computer is rebooting press F8 several times
In the appeared list of options choose Safe Mode
For Windows 8 and 8.1:
Restart the system
While computer is rebooting press F8 several times
In the appeared list of options choose Safe Mode
For Windows 10:
In the Start menu click on the power button
Hold Shift and choose Restart
Choose Troubleshoot
In the Advanced Options choose Startup Settings
Click Restart
Select Enter Safe Mode
How to decrypt or restore .scl files
Use the decrypting tool
Unfortunately, currently a tool able to decrypt the files infected by CryptFIle2 ransomware is not released yet. You may try applying to the methods described below, however, they might not work with the latest versions of CryptFIle2 ransomware.
Restore the system
Initiate the search for system restore
Click on the result
Choose the date before the infection appearance
Follow the on-screen instructions
Roll the files back to the previous version
Right-click the file and choose Properties
Open the Previous Version tab
Select the latest version and click Copy
Click Restore
---
If the above-mentioned methods didn't help in eliminating the threat, then it's better to rely on an automatic way of deleting CryptFIle2 ransomware.
We also recommend to download and use Norton to scan the system after CryptFIle2 ransomware removal to make sure that it is completely gone. The antimalware application will detect any vicious components left among system files and registry entries that can recover CryptFIle2 ransomware.