What is Chumsearch.com?
Chumsearch.com is a browser hijacker that is created by the same people to made Trovigo.com and Trovi.com malware. This browser hijacker has an ability to infiltrate all presenting on a system web browsers and to take control over them. It is expressed in altering the browsers' settings to change the homepage and main search engine to force the victim to use only this search domain and to make it unchangeable. The aim of this malware is to land a user on certain predetermined pages to promote them or some other questionable products, some of which can be dangerous for your computer health. That's why we encourage the victims of the hijacker to take immediate measures and to remove Chumsearch.com page.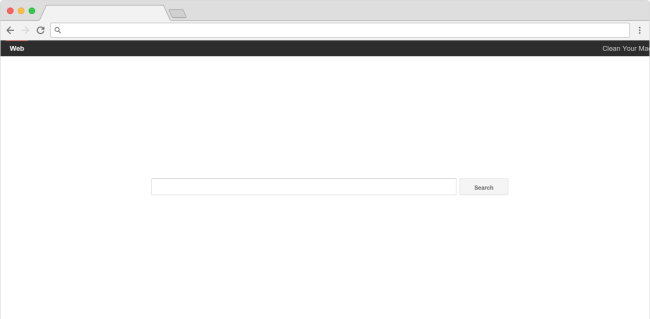 How Chumsearch.com got installed on your computer?
If you want to prevent the Chumsearch.com infection, you need to check the contents of every installation that you perform. We say so because very often freeware contains malware disguised as additional installation elements. You can learn the components of the setup by reading the EULA and other information that is given on installation wizard screens. If you see that there are some applications that added to the main program and that you don't want to have on your system, it's better to cancel the process.
---
Symptoms of Chumsearch.com infection
First and the most striking proof of having a browser hijacker is a change of the main page. Usually, it is a search engine page that is designed so that user would believe in its legitimacy.
Generally, hijackers cause redirections when the user makes a search query on its page or tries to reach a blocked site (usually another search engine or anti-malware sites)
Another indicator of hijacker infection is an appearance of new programs, toolbars and browser extensions that you don't remember installing and processes in start-up queue.
Also, you may notice the significant slowdown in the system operating, since running of the applications required for malware activity may consume a lot of CPU.
Besides, hijacker infection may as well negatively affect the speed of Internet connection.
---
How to remove Chumsearch.com?
To make sure that the hijacker won't appear again, you need to delete Chumsearch.com completely. For this you need to remove the application then check the drives for such leftovers as Chumsearch.com files and registry entries.
We should warn you that performing some of the steps may require above-average skills, so if you don't feel experienced enough, you may apply to automatic removal tool.
Combo Cleaner Antivirus is a powerful tool that is able to keep your Mac clean and protect it from various kinds of unwanted applications. It would automatically search out and delete all elements related to Chumsearch.com. It is not only the easiest way to eliminate Chumsearch.com, but also the safest and most assuring one.
---
Steps of Chumsearch.com manual removal
Uninstall Chumsearch.com from the system
As it was stated before, more likely that the hijacker appeared on your system brought by other software. So, to get rid of Chumsearch.com you need to call to memory what you have installed recently.
Remove Chumsearch.com from Applications
Open a Finder window
Click Applications line on the sidebar
Select the application related to Chumsearch.com right-click it and choose Move to Trash
---
Remove Chumsearch.com from Profiles
Launch System Preferences
Select Profiles at the bottom of window.
Choose AdminPrefs profile, click "-" icon and enter password.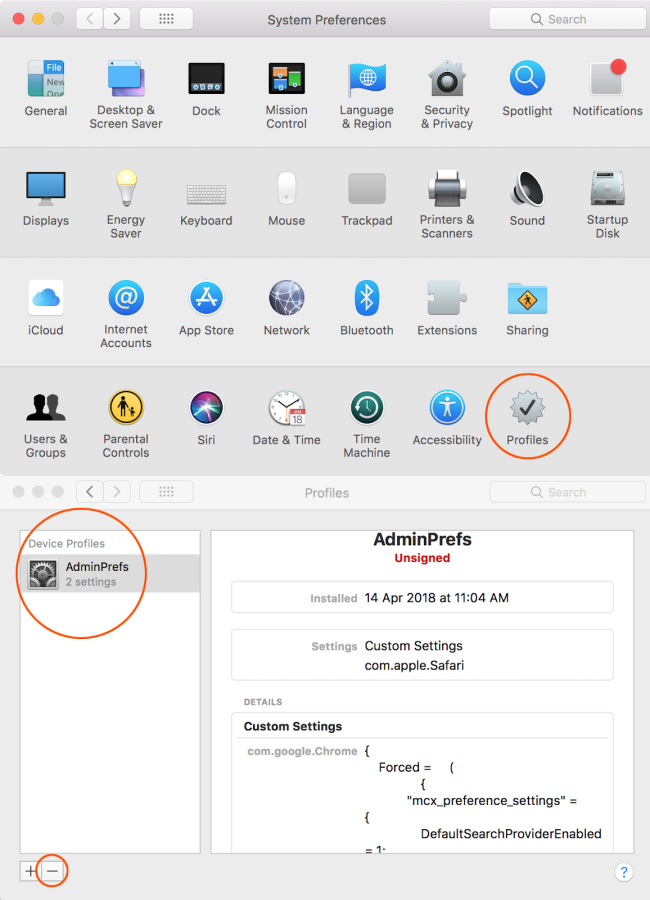 Remove Chumsearch.com from browsers
Since most of the hijacker threats use a disguise of a browser add-on, you will need to check the list of extensions/add-ons in your browser.
How to remove Chumsearch.com from Safari
Start Safari
Click on Safari menu button, then go to the Extensions
Delete Chumsearch.com or other extensions that look suspicious and you don't remember installing them
How to remove Chumsearch.com from Google Chrome
Start Google Chrome
Click on Tools, then go to the Extensions
Delete Chumsearch.com or other extensions that look suspicious and you don't remember installing them
How to remove Chumsearch.com from Mozilla Firefox
Start Mozilla Firefox
Click on the right-upper corner button
Click Add-ons, then go to Extensions
Delete Chumsearch.com or other extensions that look suspicious and you don't remember installing them
---
If the above-mentioned methods didn't help in eliminating the threat, then it's better to rely on an automatic way of deleting Chumsearch.com.
Download Norton
We also recommend to download and use Norton to scan the system after Chumsearch.com removal to make sure that it is completely gone. The antimalware application will detect any vicious components left among system files and registry entries that can recover Chumsearch.com.