What is SurfBuyer?
SurfBuyer is an unwanted application and an adware that offers to help user to save time and effort by showing notifications of bargains and discounts available on various online shopping sources. Such assistance often attracts users and make them think that they need to have SurfBuyer on their computers. Still, we can name several reasons why this is not true. First of all, people who have SurfBuyer installed on the systems notice the rapid increase of ads and pop-ups while browsing the net. Second, none of these offers turns out to be real, as they all are connected with questionable sources that range from uninformative to harmful. And third, you need to know that some of adware threats also apply to spyware techniques, so that they can track victim's geolocation, browsing history, and even the inputted text. We guess, that is quite enough to convince you in the need to remove SurfBuyer adware as soon as possible.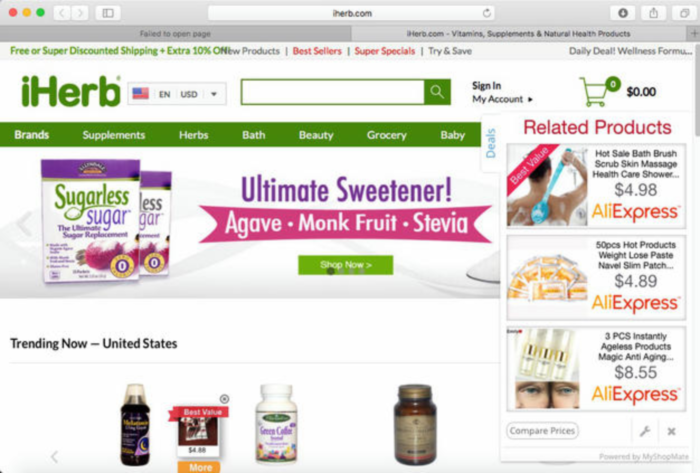 How SurfBuyer got installed on your computer?
SurfBuyer can be downloaded and installed willingly from its website, however it is a rare case. More often, users don't understand, where the malware came from and how it get inside the system. It is common for malware to use unfair tactics to infiltrate computers stealthily. One of the most frequently-used ones is putting an adware, like SurfBuyer, into a software package together with other applications, so that they would distract user's attention from the threat. So, in the process of installation always change the setup type to Advanced, in order to see hidden elements of it. And then all you need to do is to opt out the unwanted applications.
---
Symptoms of SurfBuyer infection
First and the most striking proof of what you have an adware is ads generated on pages where they haven't appeared before. The ads can be of any type – pop-ups, in-text hyperlinks, banners and their amount increases on shopping sites. Some of them may be labeled as "Ads by SurfBuyer", "Brought by SurfBuyer", "Powered by SurfBuyer", etc.
Another indicator of adware infection is appearance of new programs that you don't remember installing and processes in start-up queue.
Also, you may notice the significant slowdown in the system operating, since running of the applications required for adware activity may consume a lot of CPU.
Besides slowing down the computer itself, adware infection may as well negatively affect the speed of Internet connection.
---
How to remove SurfBuyer?
Performing an antimalware scan with Norton Antivirus would automatically search out and delete all elements related to SurfBuyer. It is not only the easiest way to eliminate SurfBuyer, but also the safest and most assuring one.
---
Steps of SurfBuyer manual removal
Uninstall SurfBuyer from the system
As it was stated before, more likely that the adware appeared on your system brought by other software. So, to get rid of SurfBuyer you need to call to memory what you have installed recently.
How to remove SurfBuyer from Mac
Open a Finder window
Click Applications line on the sidebar
Select the application related to SurfBuyer right-click it and choose Move to Trash
---
Remove SurfBuyer from browsers
Since most of adware threats use a disguise of a browser add-on, you will need to check the list of extensions/add-ons in your browser.
How to remove SurfBuyer from Safari
Start Safari
Click on Safari menu button, then go to the Extensions
Delete SurfBuyer or other extensions that look suspicious and you don't remember installing them
How to remove SurfBuyer from Google Chrome
Start Google Chrome
Click on Tools, then go to the Extensions
Delete SurfBuyer or other extensions that look suspicious and you don't remember installing them
How to remove SurfBuyer from Mozilla Firefox
Start Mozilla Firefox
Click on the right-upper corner button
Click Add-ons, then go to Extensions
Delete SurfBuyer or other extensions that look suspicious and you don't remember installing them
---
If the above-mentioned methods didn't help in eliminating the threat, then it's better to rely on an
automatic way
of deleting SurfBuyer.
We also recommend to download and use Norton to scan the system after SurfBuyer removal to make sure that it is completely gone. The antimalware application will detect any vicious components left among system files and registry entries that can recover SurfBuyer.