What is AdProtect?
AdProtect is a program that claims to operate as an anti-spyware, though on further investigation it appears to be a rogue application. It gets installed on systems bypassing the defenses and acts as a reliable tool. At least, at the start. The tool itself initiates a fake malware scan, which unfailingly ends in a number of security alerts. These notifications are generated and have nothing in common with real situation – AdProtect detects system problems and malware issues even on new machines. The developers of AdProtect suppose to scare users and persuade them to buy a full version of the application, so that the problems could be solved. The license for AdProtect accounts $50-100 and is provided for a year. Not only it is an artificially high price, but it also wouldn't improve situation, since the program and threats are fake. The most wise action you may apply to the application is to remove AdProtect.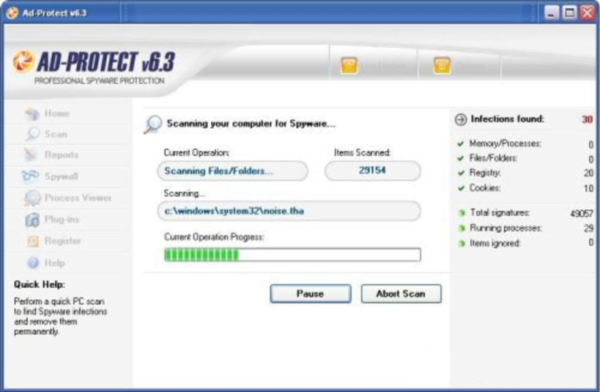 How AdProtect got installed on your computer?
The problem with malware spreading is that in most cases it doesn't require user's actions to land on the system. The creators of AdProtect use alternative to usual downloads methods. Among the most popular are online offers to scan the system for threats, notifications about drivers updates and attachments to spam messages. So, to avoid installing a malware you need to follow simple rule for secure web surfing. First, install and keep up-to-date the reputable antimalware. Second, do not visit suspicious sites and do not download software without reading its reviews in advance.
---
How to remove AdProtect?
To delete AdProtect completely you need to remove the application from the Control Panel and then check the drives for such leftovers as AdProtect files and registry entries.
We should warn you that performing some of the steps may require above-average skills, so if you don't feel experienced enough, you may apply to automatic removal tool.
Performing an antimalware scan with Norton would automatically search out and delete all elements related to AdProtect. It is not only the easiest way to eliminate AdProtect, but also the safest and most assuring one.
---
Steps of AdProtect manual removal
Uninstall AdProtect from Control Panel
You could have downloaded the program yourself but, as it was stated before, more likely that the rogue application appeared on your system brought with other software. So, to get rid of AdProtect you need to call to memory what you have installed recently.
How to remove AdProtect from Windows XP
Click the Start button and open Control Panel
Go to Add or Remove Programs
Find the application related to AdProtect and click Uninstall
How to remove AdProtect from Windows 7/Vista
Click the Start button and open Control Panel
Go to Uninstall Program
Find the application related to AdProtect and click Uninstall
How to remove AdProtect from Windows 8/8.1
Right-click the menu icon in left bottom corner
Choose Control Panel
Select the Uninstall Program line
Uninstall the application related to AdProtect
How to remove AdProtect from Windows 10
Press Win+X to open Windows Power menu
Click Control Panel
Choose Uninstall a Program
Select the application related to AdProtect and remove it
Delete files and registry entries added by AdProtect
Sometimes removal via Control Panel is not enough since the built-in application can leave some files. So, you need to find all of the following items and delete them.
Remove AdProtect files and folders:
startupeditor.dll
messengercontrol.dll
desktopmanager.dll
msvcr71.dll
msvcp71.dll
dbghelp.dll
adpnospam.dll
adpiemonitor.dll
adprotect_setup.exe
settings.xml
adplanguage.ini
activex.db
ad-protect.chm
ad-protect v6.3 un-installer.lnk
ad-protect v6.3 website.lnk
ad-protect v6.3.lnk
ad-protect.chm
ad-protect.exe
ad-protect.url
adpiemonitor.dll
adplanguage.ini
adpnospam.dll
ad-protect.exe
ad-protect.url
adpiemonitor.dll
adpnospam.dll
blacklist.db
config.ini
cookies.db
dbghelp.dll
filesnames.db
hosts.db
knownlocations.db
english.ini
spanish.ini
adp_activity-07132006-143048.log
md5.db
uninst.exe
ad-protect v6.3 un-installer.lnk
ad-protect v6.3 website.lnk
msvcp71.dll
msvcr71.dll
desktopmanager.dll
messengercontrol.dll
startupeditor.dll
registry.db
sdebug.log
spywareinfo.db
tips.txt
Remove AdProtect registry entries:
HKEY_CURRENT_USER\Software\Microsoft\Office\Outlook\Addins\Ad-Protect.Addin.1
HKEY_CLASSES_ROOT\Ad-Protect.Addin
HKEY_CLASSES_ROOT\Ad-Protect.Addin.1
HKEY_CLASSES_ROOT\Ad-Protect.Server
HKEY_CLASSES_ROOT\Ad-Protect.Server.1
HKEY_CLASSES_ROOT\AppID\{7C11C36C-2AE0-4489-9B09-A6129139D52D}
HKEY_CLASSES_ROOT\AppID\{9DA1990B-9BCA-4c80-AEFB-11A40FA849F9}
HKEY_CLASSES_ROOT\AppID\{C628512D-A058-4BD4-B47B-B036F45FA02B}
HKEY_CLASSES_ROOT\AppID\ad-protect.EXE
HKEY_CLASSES_ROOT\AppID\IEControl.DLL
HKEY_CLASSES_ROOT\AppID\spamdet.DLL
HKEY_CLASSES_ROOT\CLSID\{99A753C6-E429-46BD-989E-DD4A21CD059D}
HKEY_CLASSES_ROOT\CLSID\{BBBD3E11-D201-46C9-8471-091D33159287}
HKEY_CLASSES_ROOT\Interface\{214345B8-BB69-498D-A168-29F58F15D806}
HKEY_CLASSES_ROOT\Interface\{D2C1986A-FBEC-4472-AABF-6D42F08DBC8E}
HKEY_CLASSES_ROOT\Interface\{E6B4AB50-F423-4EE6-9839-B35DCFCDFA49}
HKEY_CLASSES_ROOT\Interface\{F51BC478-D997-4C56-988D-79D9EEAAD1EC}
HKEY_CLASSES_ROOT\Interface\{F82FD7D4-2EC8-40B3-A141-DE051C98DCE9}
HKEY_CLASSES_ROOT\Interface\{FD4DCB8B-C33A-4E70-A351-6FAB7E1071A4}
HKEY_CLASSES_ROOT\spamdet.SpamDetector
HKEY_CLASSES_ROOT\spamdet.SpamDetector.1
HKEY_CLASSES_ROOT\TypeLib\{283ED043-D403-4808-BF28-FCDE29DCF1FB}
HKEY_CLASSES_ROOT\TypeLib\{32BD20FD-41FD-47FB-9BC9-28DCBD7D55D7}
HKEY_CLASSES_ROOT\TypeLib\{DFCDA823-80C5-4F55-B328-7EFD4AFBD9A0}
HKEY_CLASSES_ROOT\CLSID\{D2C1986A-FBEC-4472-AABF-6D42F08DBC8E}
HKEY_CLASSES_ROOT\CLSID\{D7ABE914-B8CF-4602-9145-6BDAAEDA21AA}
HKEY_CLASSES_ROOT\CLSID\{E6B4AB50-F423-4EE6-9839-B35DCFCDFA49}
HKEY_CLASSES_ROOT\IEControl.IEExtension
HKEY_CLASSES_ROOT\IEControl.IEExtension.1
Microsoft\Office\Outlook\Addins\Ad-Protect.Addin.1
HKEY_CLASSES_ROOT\clsid\{d7abe914-b8cf-4602-9145-6bdaaeda21aa} appid
HKEY_CLASSES_ROOT\clsid\{d7abe914-b8cf-4602-9145-6bdaaeda21aa}\programmable
HKEY_CLASSES_ROOT\typelib\{dfcda823-80c5-4f55-b328-7efd4afbd9a0}
HKEY_CLASSES_ROOT\typelib\{dfcda823-80c5-4f55-b328-7efd4afbd9a0}\1.0\0
HKEY_LOCAL_MACHINE\software\microsoft\windows\currentversion\explorer\browser helper objects\{1f6fe2c2-6040-4645-9053-7f689affe176}