What is HPE iLO Ransomware?
HPE iLO is a new ransomware-type virus that encrypts data on server systems HPE iLO 4. Notably, the distribution method is very different from many similar viruses. To get into victims' computers, cybercriminals exploit remote control system (HPE Integrated Lights-Out). After this, they mount malicious ISO image into computers, by opening which, the encryption process is activated. Upon completion, it displays a lock screen informing that your files have been encrypted and next steps to get them back. Below you will find a step-by-step guide to remove HPE iLO Ransomware and recover your files.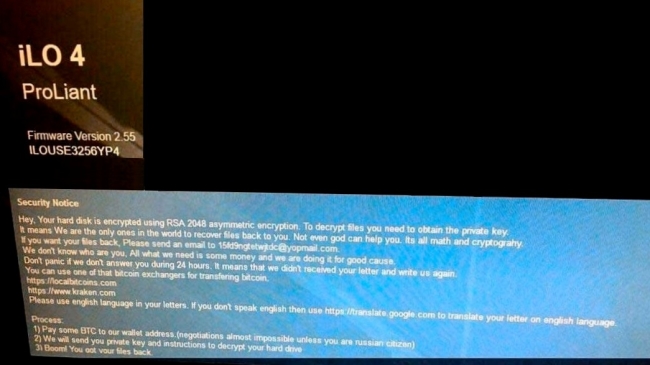 The amount of ransom is not small, 2 bitcoins (~18 559.45 USD). We suggest that cybercriminals expect to get money from corporate organizations so basically they have such server systems. To complicate matters further, HPE iLO Ransomware also deletes all shadow copies of files which are necessary for data restore. Despite this, we still urge you not to contact them as it's fraught with money loss. The thing is that malefactors often disappear once money is transferred. But, don't despair, the virus doesn't delete your files which means you have a good chance to get them back. First, you need to remove HPE iLO Ransomware and then try to use one of the decryption tools provided here. Here you'll find a detailed instruction which, hopefully, will help you.
How HPE iLO ransomware gets on your PC?
This type of virus can be infiltrated through several methods, including a freeware software, spam messages, trojans, software from dangerous sources, etc. A process of installation can start hidden and automatically. Besides that, some malware programs can mark HPE iLO Ransomware as a trusted software program.
What to do if your PC is infected with HPE iLO ransomware
As soon as you notice the presence of the ransomware on your system, you should turn your computer off. If it is possible to try to create a backup or image of your hard drive info. This may let you to reserve the state of your drives in case a decryption method would be created afterward.
How to remove HPE iLO ransomware?
To make sure that the ransomware won't reappear, you need to delete HPE iLO ransomware completely. For this, you need to remove the files and registry entries of the ransomware. We should warn you that performing some of the steps may require above-average skills, so if you don't feel experienced enough, you may apply to automatic removal tool.
Performing an antimalware scan with SpyHunter Removal Tool would automatically search out and delete all elements related to HPE iLO ransomware. It is not only the easiest way to eliminate HPE iLO ransomware but also the safest and the most assuring one.
Steps of HPE iLO ransomware manual removal
Restart Windows in Safe Mode
For Windows XP:
Restart the system
While computer is rebooting press F8 several times
In the appeared list of options choose Safe Mode
For Windows 7 and Vista:
Restart the system
While computer is rebooting press F8 several times
In the appeared list of options choose Safe Mode
For Windows 8 and 8.1:
Restart the system
While computer is rebooting press F8 several times
In the appeared list of options choose Safe Mode
For Windows 10:
In the Start menu click on the power button
Hold Shift and choose Restart
Choose Troubleshoot
In the Advanced Options choose Startup Settings
Click Restart
Select Enter Safe Mode
How to decrypt and restore files
Restore files with an automatic tool
Method 1
There is a possible way to decrypt files using Dr. Web ANTI-VIRUS LABORATORY. This way is free for users who have a current subscription to any product of Dr.Web otherwise it will cost 150 EURO (This price includes the decryption service and a two-year Dr.Web Security Space license for 1 PC).
Download Dr.Web
Open your Dr.Web Security Space menu, then click on My Dr.Web button.

Once you are on the webpage, click on the Home button.

Find green Support section at the top of the website, select it, then look down to Service section. There you can find File decryption (Encoder) button, click on it.

Choose I use Dr.Web, enter the CAPTCHA code and press Send..

Enter your Dr.Web serial number, name and Email. Submit a request.

Fill up the required fields, attach some decrypted files, screenshot or a text file containing the ransom demand and press Send.

Method 2
For those types of ransomware viruses that rather remove files than encrypt them we would suggest using Recuva program.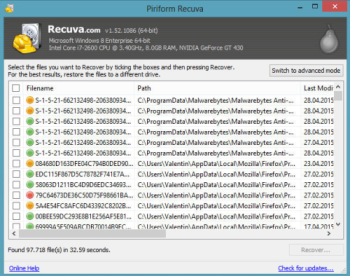 Download Recuva tool and launch it
Within the on-screen wizard choose the type of the files you want to recover
Choose the location of the files
Wait until the application finishes scanning
Select the required files and click the Recover button
Nevertheless there are no other tools able to restore and decrypt files, you may try applying to the manual methods described below, however, they might not work with the latest versions of HPE iLO ransomware.
Restore the system
Initiate the search for system restore
Click on the result
Choose the date before the infection appearance
Follow the on-screen instructions
Roll the files back to the previous version
Right-click the file and choose Properties
Open the Previous Version tab
Select the latest version and click Copy
Click Restore
---
If the above-mentioned methods didn't help in eliminating the threat, then it's better to rely on an automatic way of deleting HPE iLO Ransomware.
Dr.Web is a powerful antimalware software that can quickly detect and remove HPE iLO Ransomware with all vicious components left among system files and registry entries to make sure that it is completely gone. Dr.Web also has a feature (HTTP monitor), allowing to block access to dangerous sites in a real-time thus preventing you from being infected in the future. Just launch the scan and Dr.Web will take care of the rest.