What is TeslaCrypt

?

Teslacrypt is a ransomware application that was released in February 2015. The ransomware is designed to infect all versions of Windows existing at the moment. Settled on a victim's system TeslaCrypt makes changes on a system level, which start with disabling of Windows Task Manager, Regedit and Command Prompt tools. Blocking of these utilities is aimed to complicate the removal process and to tighten the pressure showing the user that the computer is totally under the control of the ransomware. Alongside with that TeslaCrypt adds its files to the Application Data folder as well as several registry entries to the registry. Finalmente, the ransomware scans all drive letters for the files with specific extensions that are to be encrypted. It's noteworthy that TeslaCrypt will look for data on all drivers including removable, network folders and DropBox locations.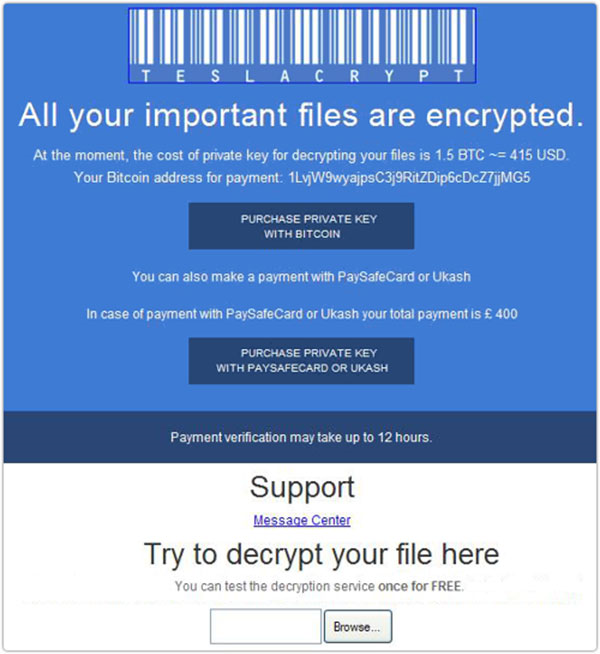 The algorithm Teslacrypt uses is AES-256 code, though the wallpaper and the notes of the ransomware may state different. The affected files become inaccessible and gain the extension that varies due to the Teslacrypt version. Alongside with file ciphering TeslaCrypt will add a text note to every location containing encrypted files, as well as change your wallpaper and add a note to your desktop. There you will see several URLs to Decryption Service site with the stated amount of ransom and corrupted files.
What to do if your PC is infected with TeslaCrypt
Assim que você notar a presença do ransomware em seu sistema, você deve desligar o computador. Se for possível, tentar criar uma cópia de segurança ou a imagem do seu disco rígido informações. Isso pode deixá-lo para reservar o estado de suas unidades no caso de um método de decodificação seria criada posteriormente.
How TeslaCrypt got installed on your computer
The strongest chances to get TeslaCrypt virus is via malicious sources. Usually these are hacked by malware developers sites that now use exploit kits. Exploit kits is software that employs weak spots of your programs. After an exploit kit sneaks into your computer it is capable of installing and launching the ransomware without user's knowledge.
Symptoms of TeslaCrypt infection
É difícil não notar ransomware, uma vez que muitas vezes tem um dos processos responsável por exibir uma mensagem de notificação. Esta janela bloqueia a tela deixando as alternativas mínimas de usuário. além de, alguns arquivos ficarão inacessíveis, como em muitos casos ransomware criptografa-los para exasperar o efeito assustar.
---
How to remove TeslaCrypt

?

Para certificar-se de que o adware não reaparecerá, you need to delete TeslaCrypt completely. Para isso, você precisa remover os arquivos e entradas do Registro do ransomware. Devemos avisá-lo que a realização de alguns dos passos pode exigir habilidades acima da média, por isso, se você não se sente experiente o suficiente, você pode aplicar a ferramenta de remoção automática.
Norton download grátis

Performing an antimalware scan with Norton would automatically search out and delete all elements related to TeslaCrypt Ransomware. It is not only the easiest way to eliminate TeslaCrypt Ransomware, mas também o mais seguro eo mais assegurando.
---
Steps of TeslaCrypt manual removal
Reinicie o Windows em modo de segurança
Para Windows 7, 8,
XP and Vista

:
Restart the system

While computer is rebooting press F8 several times

In the appeared list of options choose Safe Mode
Para Windows 10:
In the Start menu click on the power button

Hold Shift and choose Restart

Choose Troubleshoot

In the Advanced Options choose Startup Settings

Click Restart

Select Enter Safe Mode With Networking
Delete files and registry entries added by TeslaCrypt
Agora você vai ser capaz de atingir as funções e arquivos necessários. Para eliminar a actividade ransomware, você precisa encontrar todos os seguintes itens e excluí-los.
Remove TeslaCrypt files and folders

:

%AppData%\.exe
%AppData%\key.dat
%AppData%\log.html
%LocalAppData%\.exe
%LocalAppData%\storage.bin
%LocalAppData%\log.html
%Desktop%\Save_Files.lnk
%Desktop%\CryptoLocker.lnk
%Desktop%\HELP_TO_DECRYPT_YOUR_FILES.bmp
%Desktop%\HELP_TO_DECRYPT_YOUR_FILES.txt
%Desktop%\HELP_TO_SAVE_FILES.txt
%Desktop%\HELP_TO_SAVE_FILES.bmp
%Documents%\RECOVERY_FILE.TXT
%Desktop%\HELP_RESTORE_FILES.bmp
%Desktop%\HELP_RESTORE_FILES.txt
HELP_RESTORE_FILES_.TXT
Remove TeslaCrypt registry entries

:

HKCU\Software\Microsoft\Windows\CurrentVersion\Run\AVSvc %AppData%\.exe
HKCU\Software\Microsoft\Windows\CurrentVersion\Run\crypto13 %AppData%\.exe
HKCU\Software\Microsoft\Windows\CurrentVersion\Run\AVrSvc %LocalAppData%\.exe
HKCU\Control Panel\Desktop\Wallpaper "%Desktop%\HELP_RESTORE_FILES.bmp"
HKCU\Control Panel\Desktop\Wallpaper "%Desktop%\HELP_TO_DECRYPT_YOUR_FILES.bmp"
HKCU\Control Panel\Desktop\Wallpaper "%Desktop%\HELP_TO_SAVE_FILES.bmp"
Restore the files encrypted by TeslaCrypt
Use a ferramenta descriptografar
Some time after the spread of TeslaCrypt the decryption tool was released. TeslaDecoder is capable of handling the files with .ECC, .EXX, and .EZZ extensions. You can download the decryption tool here. To use it simply extract the archive and run the TeslaDecoder.exe file. When launched the tool will scan storage.bin, key.dat and Windows Registry for a key. If it manages to detect the key, the utility will inform user that it can start decryption. Otherwise you can input the path to storage.bin or key.dat files manually.
We advise to run a test decryption first before launching a full operation. For this replace an encrypted file into a new folder and click Decrypt Folder. If the process goes smoothly, then you can proceed to the Decrypt All option.
Restaurar o sistema
Initiate the search for 'system restore

'
Clique sobre o resultado

Choose the date before the infection appearance

Siga as instruções na tela
Rolar os arquivos de volta para a versão anterior
Right-click the file and choose Properties

Open the Previous Version tab

Select the latest version and click Copy

Click Restore