What is CryptFIle2 ransomware

?

CryptFIle2 ransomware belongs to a group of malware that is developed to cipher valuable personal information and then extort money by claiming a ransom in return of the data. The ransomware infiltrates the systems stealthily and then begins to rewrite the files. And only after the process of encryption the victim gets a notification about infection, in which the schemers state their demands. If this threat has affected your system and encrypted your personal files, you should pay the money under no circumstances, unless you want to encourage the cybercriminals to further malware creation. As an alternative we offer to use this guide to remove CryptFile2 ransomware and decrypt .scl files on your own.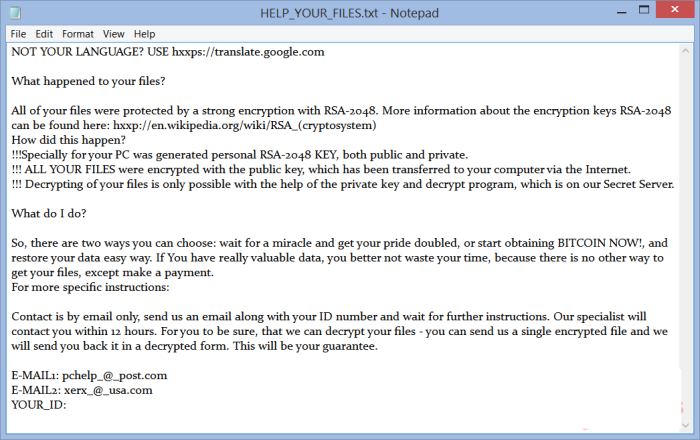 The text of the message states:
NOT YOUR LANGUAGE? USE hxxps://translate.google.com
What happened to your files?
All of your files were protected by a strong encryption with RSA-2048. More information about the encryption keys RSA-2048 can be found here: hxxp://en.wikipedia.org/wiki/RSA_(cryptosystem)
How did this happen?
!!!Specially for your PC was generated personal RSA-2048 KEY, both public and private.
!!! ALL YOUR FILES were encrypted with the public key, which has been transferred to your computer via the Internet.
!!! Decrypting of your files is only possible with the help of the private key and decrypt program, which is on our Secret Server.
What do I do?
assim, there are two ways you can choose: wait for a miracle and get your pride doubled, or start obtaining BITCOIN NOW!, and restore your data easy way. If You have really valuable data, you better not waste your time, because there is no other way to get your files, except make a payment.
For more specific instructions:
Contact is by email only, send us an email along with your ID number and wait for further instructions. Our specialist will contact you within 12 horas. Para que você possa ter a certeza, que podemos decifrar seus arquivos – you can send us a single encrypted file and we will send you back it in a decrypted form. This will be your guarantee.
E-MAIL1: pchelp_@_post.com
E-MAIL2: xerx_@_usa.com
YOUR_ID:
How CryptFIle2 ransomware got installed on your computer
Your system may get the CryptFIle2 ransomware infection in the result of you using peer-to-peer sharing networks and torrent services. Another frequently used distribution channel is spam emails. Tipicamente, they look like a genuine business or governmental letter that asks to see the details in an attachment, that usually is a zip folder or doc file. Be careful while receiving the letters from an unknown sender and always scan the attachments with antimalware and antivirus programs.
What to do if your PC is infected with CryptFIle2 ransomware
Assim que você notar a presença do ransomware em seu sistema, você deve desligar o computador. Se for possível, tentar criar uma cópia de segurança ou a imagem do seu disco rígido informações. Isso pode deixá-lo para reservar o estado de suas unidades no caso de um método de decodificação seria criada posteriormente.
Symptoms of CryptFIle2 ransomware infection
É difícil não notar ransomware, uma vez que muitas vezes tem um dos processos responsável por exibir uma mensagem de notificação. Esta janela bloqueia a tela deixando as alternativas mínimas de usuário. além de, alguns arquivos ficarão inacessíveis, como em muitos casos ransomware criptografa-los para exasperar o efeito assustar.
How to remove CryptFIle2 ransomware

?

Para certificar-se de que o adware não reaparecerá, you need to delete CryptFIle2 ransomware completely. Para isso, você precisa remover os arquivos e entradas do Registro do ransomware. Devemos avisá-lo que a realização de alguns dos passos pode exigir habilidades acima da média, por isso, se você não se sente experiente o suficiente, você pode aplicar a ferramenta de remoção automática.

Performing an antimalware scan with Norton would automatically search out and delete all elements related to CryptFIle2 ransomware. It is not only the easiest way to eliminate CryptFIle2 ransomware, mas também o mais seguro eo mais assegurando.
Steps of CryptFIle2 ransomware manual removal
Reinicie o Windows em modo de segurança
Para o Windows XP:
Reiniciar o sistema
Enquanto o computador está reiniciando Pressione F8 várias vezes
Na lista apareceu de opções escolha Modo de segurança
Para Windows 7 e Vista:
Reiniciar o sistema
Enquanto o computador está reiniciando Pressione F8 várias vezes
Na lista apareceu de opções escolha Modo de segurança
Para Windows 8 e 8.1:
Reiniciar o sistema
Enquanto o computador está reiniciando Pressione F8 várias vezes
Na lista apareceu de opções escolha Modo de segurança
Para Windows 10:
No Começar menu do botão no botão de energia
Aguarde Mudança e escolha Reiniciar
Escolher solucionar
No Opções avançadas escolher Definições de arranque
Clique Reiniciar
selecionar Entrar no Modo Seguro
How to decrypt or restore .scl files
Use a ferramenta descriptografar
Infelizmente, currently a tool able to decrypt the files infected by CryptFIle2 ransomware is not released yet. Você pode tentar aplicar com os métodos descritos abaixo, Contudo, they might not work with the latest versions of CryptFIle2 ransomware.
Restaurar o sistema
Iniciar a pesquisa para restauração do sistema
Clique sobre o resultado
Escolha o data anterior à infecção aparência
Siga as instruções na tela
Rolar os arquivos de volta para a versão anterior
Direito do mouse no arquivo e escolha propriedades
Abra o guia versão anterior
Selecione a versão mais recente e clique cópia de
Clique Restaurar
---
Se os métodos acima mencionados não ajudar na eliminação da ameaça, então é melhor contar com um
forma automática
of deleting CryptFIle2 ransomware
.
We also recommend to download and use Norton to scan the system after CryptFIle2 ransomware removal to make sure that it is completely gone. The antimalware application will detect any vicious components left among system files and registry entries that can recover CryptFIle2 ransomware.