What is Barracuda Ransomware

?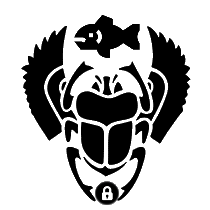 Barracuda Ransomware is another crypto-virus from Scarab family that makes user's data unavailable. Cybercriminals from Scarab have already released many similar viruses and they are all almost identical. It spreads via fake emails containing malicious files and the infection process starts when the user opens it. Après ça, all your personal files will be encrypted which means the user will not be able to open, read or edit files until they are decrypted. To get back your files, you are forced to pay a sum of money in bitcoins. Réellement, if you have been attacked by Barracuda Ransomware, il n'y a pas besoin de les contacter et surtout de faire des concessions. Rappelles toi, vous êtes contre les fraudeurs qui ne se soucient pas de vos fichiers et dont le but principal est de faire un profit. Par conséquent, il y a un risque élevé d'être laissé sans décrypteur et d'argent. Au lieu, you may try using this guide to remove Barracuda Ransomware and decrypt .BARRACUDA files without spending any money.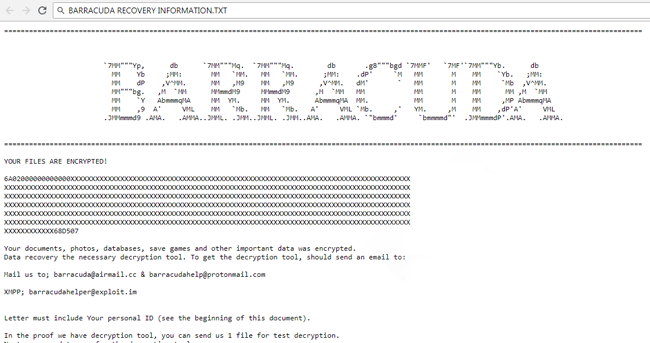 Le principe de travail du ransomware est toujours le même – pour chiffrer les fichiers, puis d'exiger le paiement. Barracuda Ransomware encodes users' fichiers personnels via l'algorithme de chiffrement AES. All infected files are renamed via Base64 algorythm and get ".BARRACUDA" extension. Par exemple, fichier "myfamily.jpg" va se transformer en "xFaRudll=!KUrB+5EK=sYPIjuMWtwirIUv+HrU3gJTRwnKQCods.BARRACUDA". Après ça, ransomware crée BARRACUDA RECOVERY INFORMATION.TXT fichier, où l'utilisateur peut trouver les exigences des criminels pour déchiffrer les fichiers chiffrés:

==================================================
BARRACUDA
==================================================
YOUR FILES ARE ENCRYPTED!
Your personal ID
6A02000000000000***68D507
Your documents, photos, databases, save games and other important data was encrypted.
Data recovery the necessary decryption tool. To get the decryption tool, should send an email to:
Mail us to; barracuda@airmail.cc & barracudahelp@protonmail.com
XMPP; barracudahelper@exploit.im
Letter must include Your personal ID (see the beginning of this document).
In the proof we have decryption tool, you can send us 1 file for test decryption.
Next, you need to pay for the decryption tool.
In response letter You will receive the address of Bitcoin wallet which you need to perform the transfer of funds.
If you have no bitcoins
* Create Bitcoin purse: https://blockchain.info
* Buy Bitcoin in the convenient way
https://localbitcoins.com/ (Visa/MasterCard)
https://www.buybitcoinworldwide.com/ (Visa/MasterCard)
https://en.wikipedia.org/wiki/Bitcoin (the instruction for beginners)
- It doesn't make sense to complain of us and to arrange a hysterics.
- Complaints having blocked e-mail, you deprive a possibility of the others, to decipher the computers.
Other people at whom computers are also ciphered you deprive of the ONLY hope to decipher. FOREVER.
- Just contact with us, we will stipulate conditions of interpretation of files and available payment,
in a friendly situation
- When money transfer is confirmed, You will receive the decrypter file for Your computer.
Attention!
* Do not attempt to remove a program or run the anti-virus tools
* Attempts to decrypt the files will lead to loss of Your data
* Decoders other users is incompatible with Your data, as each user unique encryption key
==================================================

Although Barracuda is a really dangerous virus, vous avez encore une bonne chance de les récupérer. avant déchiffrage, you should first stay focused on removing Barracuda Ransomware to avoid re-infection. Once Barracuda Ransomware is removed, vous pouvez procéder à décryptage. Both automatic and manual solution is presented here that we hope will help you remove Barracuda Ransomware and recover your files.
How Barracuda ransomware gets on your PC

?

Ce type de virus peut être infiltrée par plusieurs méthodes, y compris des logiciels freeware, les messages de spam, trojans, les logiciels provenant de sources dangereuses, etc. Un processus d'installation peut démarrer automatiquement caché et. Par ailleurs, some malware programs can mark Barracuda Ransomware as a trusted software program.
How to remove Barracuda ransomware

?

Pour vous assurer que le ransomware ne réapparaît pas, you need to delete Barracuda ransomware completely. Pour ça, vous devez supprimer des fichiers et les entrées de registre du ransomware. Nous devons vous avertir que l'exécution certaines des étapes peut nécessiter des compétences supérieures à la moyenne, donc si vous ne vous sentez pas assez d'expérience, vous pouvez demander à l'outil de la suppression automatique.

Performing an antimalware scan with Norton would automatically search out and delete all elements related to Barracuda ransomware. It is not only the easiest way to eliminate Barracuda ransomware but also the safest and the most assuring one.
How to decrypt .BARRACUDA files
Restaurer les fichiers avec Stellar Data Recovery
Stellar Data Recovery est un outil essentiel dans la lutte contre les virus de type ransomware qui peut récupérer les fichiers cryptés.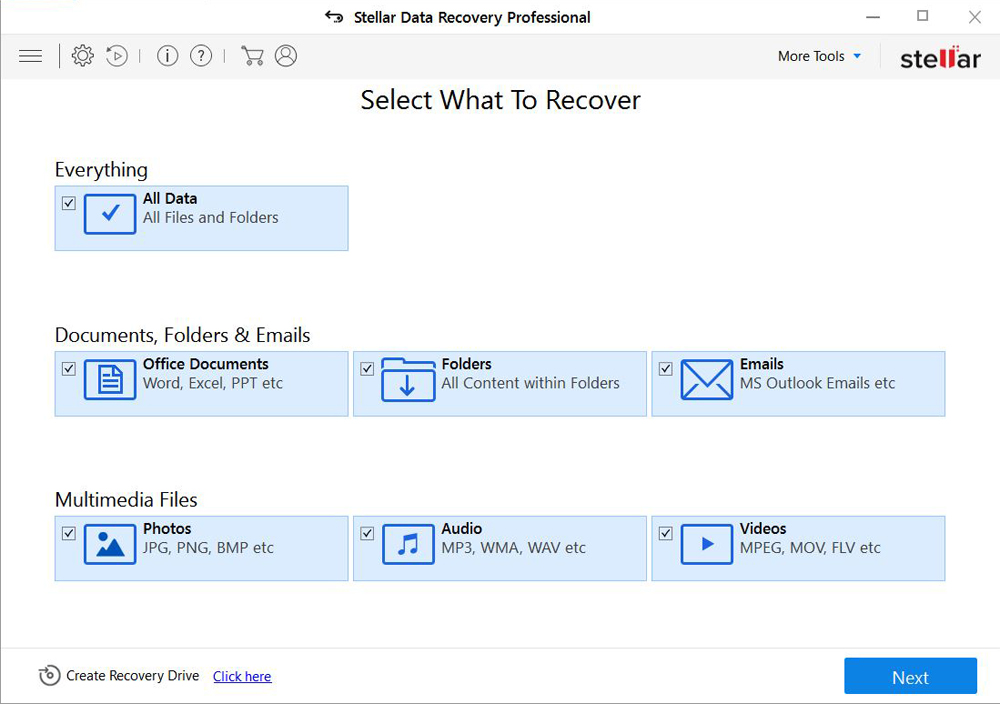 Télécharger Stellar Data Recovery et le lancer
Sélectionnez le lecteur que vous souhaitez récupérer et cliquez sur DÉBUT SCAN
Une fois la numérisation terminée, vous êtes présenté avec une liste des fichiers récupérables trouvés.
Sélectionnez des fichiers requis et cliquez sur le Récupérer
Néanmoins, if you failed to decrypt .BARRACUDA files, vous pouvez essayer d'appliquer aux méthodes manuelles décrites ci-dessous. Mais reste, il n'y a pas de fichiers undecryptable et tout problème peut être résolu. Donc, S'il vous plaît, ne hésitez pas à nous contacter via submit@securitystronghold.com si les moyens proposés ne fonctionnent pas.
Restaurer le système
Lancez la recherche restauration du système
Cliquez sur le résultat
Choisissez la date avant l'infection apparence
Suivez les instructions à l'écran
Rouler des fichiers à la version précédente
Cliquez-droit sur le fichier et choisissez Propriétés
Ouvrez le onglet Version précédente
Sélectionnez la dernière version et cliquez sur Copie
Cliquez sur Restaurer
---
Si les méthodes ci-dessus mentionnées n'ont pas aidé à éliminer la menace, alors il vaut mieux compter sur un manière automatique of deleting Barracuda Ransomware.
Comment prévenir l'infection ransomware
Norton is a powerful antimalware software that can quickly detect and remove Barracuda Ransomware with all vicious components left among system files and registry entries to make sure that it is completely gone. It is capable of protecting not only home computers but also server systems in the large organizations. Another key feature of this program is that Norton has its own decryption service available for free for clients of Norton. en outre, to avoid data loss in case the file system is damaged or infected with ransomware, it regularly creates backup copies of your files. Having Norton on the computer, you can not be afraid for the safety of your data. Just launch Norton and it will take care of the rest.
Télécharger Norton