¿Qué es el secuestrador TornTV??
El secuestrador de TornTV es la amenaza que está estrechamente relacionada con el servicio de TornTV que le dio un nombre al secuestrador. El servicio declara que permite a los usuarios ver programas de televisión en línea y descargar episodios favoritos. Además del estándar que afecta a la navegación web, como causar redirecciones a TornTV repetidamente. Además, puede cambiar la página principal y la búsqueda predeterminada a las páginas relacionadas con el secuestrador. El peligro que TornTV representa para el sistema es mayor de lo que parece. La razón es que la amenaza se propaga con el virus de puerta trasera Bifrose. Este troyano viola la seguridad del sistema y lo deja abierto para ataques de ciberdelincuentes., permitiéndoles obtener un control remoto y espiar la actividad de la víctima. Para restaurar la configuración de su navegador y evitar más infecciones, recomendamos eliminar el secuestrador TornTV.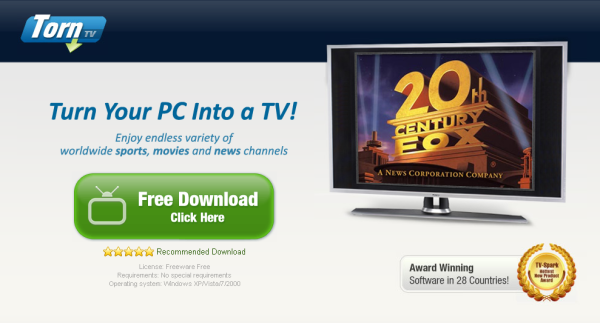 Cómo se instaló TornTV Hijacker en tu computadora?
La aplicación de TornTv se puede descargar desde el sitio del servicio. Pero además de esta forma de distribución, los desarrolladores de malware también usan los métodos secretos. Una de ellas es la instalación con un troyano que se describe arriba. Otra variante es combinar TornTV con software más popular o incluso con otro malware, como barras de herramientas y programas de adware. La instalación de estos se planifica de tal manera que una víctima no se dé cuenta del secuestrador sin una inspección exhaustiva. Por eso es importante seleccionar Avanzado (Personalizado) modo de instalación y desmarque las casillas con las aplicaciones que contienen software dudoso.
---
Los síntomas de la infección TornTV Hijacker
En primer lugar, y la prueba más llamativa de tener un secuestrador del navegador es el cambio de la página principal. Por lo general, se trata de una página de motor de búsqueda que está diseñado para que el usuario podría creer en su legitimidad.
En general, secuestradores causan cambios de dirección cuando el usuario hace una consulta de búsqueda en su página o intentos de llegar a un sitio bloqueado (generalmente otro motor de búsqueda o anti-malware sitios)
Otro indicador de la infección por el secuestrador es aparición de nuevos programas, barras de herramientas y extensiones del navegador que no recuerda la instalación y procesos en la cola de puesta en marcha.
también, es posible que observe la desaceleración significativa en el sistema operativo, ya correr de las aplicaciones requeridas para la actividad del malware puede consumir una gran cantidad de CPU.
Además, infección secuestrador puede afectar también negativamente a la velocidad de la conexión a Internet.
---
Cómo quitar el secuestrador TornTV?
Para eliminar TornTV Hijacker por completo, debe eliminar la aplicación del Panel de control y luego verificar las unidades para ver si quedan restos como archivos de TornTV Hijacker y entradas de registro.
que debemos advertir que la realización de algunos de los pasos que puede requerir habilidades encima de la media, por lo que si usted no se siente lo suficientemente experimentado, usted puede aplicar a la herramienta de eliminación automática.
Performing an antimalware scan with Norton would automatically search out and delete all elements related to TornTV Hijacker. No es solo la forma más fácil de eliminar TornTV Hijacker, pero también la más segura y asegurando.
---
Pasos para la extracción manual de TornTV Hijacker
Desinstalar TornTV Hijacker del Panel de control
Como se dijo antes, más probable que el secuestrador apareció en su sistema traído por otro software. Entonces, para deshacerte de TornTV Hijacker debes llamar a la memoria lo que has instalado recientemente.
Cómo quitar TornTV Hijacker de Windows XP
Haga clic en el comienzo botón y abierto Control Panel
Ir Añadir o eliminar programas
Encuentra la aplicación relacionada con TornTV Hijacker y haz clic desinstalación
Cómo eliminar TornTV Hijacker de Windows 7 / Vista
Haga clic en el comienzo botón y abierto Control Panel
Ir Programa de desinstalación
Encuentra la aplicación relacionada con TornTV Hijacker y haz clic desinstalación
Cómo quitar TornTV Hijacker de Windows 8/8.1
Haga clic en el menú icono en la esquina inferior izquierda
Escoger Control Panel
Selecciona el Programa de desinstalación línea
desinstalación la aplicación relacionada con TornTV Hijacker
Cómo quitar TornTV Hijacker de Windows 10
prensa Win + X para abrir el menú de Windows Poder
Hacer clic Control Panel
Escoger Desinstalar un programa
Seleccione la aplicación relacionada con TornTV Hijacker y eliminar eso
Eliminar TornTV Hijacker de los navegadores
Dado que algunas de las amenazas secuestrador usar un disfraz de un navegador add-on, tendrá que comprobar la lista de extensiones / complementos en su navegador.
Cómo quitar TornTV Hijacker de Google Chrome
Iniciar Google Chrome
Haga clic en Herramientas, luego ir a la extensiones
Eliminar TornTV Hijacker u otras extensiones que parecen sospechosas y no recuerdas haberlas instalado
Cómo quitar TornTV Hijacker de Internet Explorer
Lanzar Internet Explorer
Haga clic en el Herramientas / icono de engranaje, a continuación, seleccione Administrar complementos
Eliminar TornTV Hijacker u otras extensiones que parecen sospechosas y no recuerdas haberlas instalado
Cómo quitar TornTV Hijacker de Mozilla Firefox
Iniciar Mozilla Firefox
Haga clic en el botón superior derecho esquina
Hacer clic Complementos, luego ve a extensiones
Eliminar TornTV Hijacker u otras extensiones que parecen sospechosas y no recuerdas haberlas instalado
---
Restablecer sus navegadores
Cómo restablecer la configuración de Google Chrome
Haga clic en el icono en la esquina superior derecha
Escoger ajustes
Hacer clic Mostrar configuración avanzada
Haga clic en el Reiniciar ajustes botón
Cómo restablecer la configuración de Mozilla Firefox
Haga clic en el icono en la esquina superior derecha
Escoger Ayuda
Seleccionar Información para solucionar problemas
Haga clic en el Restablecer Firefox ... botón
Cómo restablecer la configuración de Internet Explorer
Haga clic en el Herramientas botón
Ir Opciones de Internet
Ve a la Lengüeta avanzada
Hacer clic Reiniciar
---
Eliminar archivos y entradas de registro agregadas por TornTV Hijacker
A veces, la eliminación a través del Panel de Control no es suficiente, ya que el incorporado en la aplicación puede dejar algunos archivos que poco restaurará el secuestrador. Entonces, que necesita para encontrar todos los artículos siguientes y eliminarlos
Eliminar archivos y carpetas de TornTV Hijacker:
%PROGRAMFILES(x86)%\Torntv V9.0\e2778b28-928c-4697-894d-65311608041e-5.exe
%APPDATA%\TornTV.com\TornTVSvc.exe
%PROGRAMFILES%\Torntv V6.0\Torntv V6.0-updater.exe
%PROGRAMFILES%\Torntv 2\Torntv 2-updater.exe
%PROGRAMFILES%\Torntv 2\Torntv 2-enabler.exe
%PROGRAMFILES%\Torntv 2\Torntv 2-codedownloader.exe
%PROGRAMFILES%\Torntv V9.0\00e1002c-7029-4aa8-96af-5a4f99b861b7-5.exe
%PROGRAMFILES%\Torntv V9.0\Torntv V9.0-firefoxinstaller.exe
%PROGRAMFILES%\Torntv V9.0\Torntv V9.0-updater.exe
%PROGRAMFILES%\Torntv V9.0\00e1002c-7029-4aa8-96af-5a4f99b861b7-2.exe
%PROGRAMFILES%\Torntv V9.0\Torntv V9.0-chromeinstaller.exe
%PROGRAMFILES%\Torntv V9.0\00e1002c-7029-4aa8-96af-5a4f99b861b7-4.exe
%PROGRAMFILES(x86)%\Torntv V6.0\Torntv V6.0-chromeinstaller.exe
%PROGRAMFILES(x86)%\Torntv V9.0\e2778b28-928c-4697-894d-65311608041e-3.exe
%PROGRAMFILES%\Torntv V6.0\Torntv V6.0-enabler.exe
torntv.exe
server.exe
%ProgramFiles%\YontooIEClient.DLL
%ProgramFiles%\TornTV.com\
Eliminar entradas de registro de TornTV Hijacker:

HKEY_LOCAL_MACHINE\Software\[APPLICATION]\Microsoft\Windows\CurrentVersion\Uninstaller\Torntv V7.0
HKEY_LOCAL_MACHINE\Software\[APPLICATION]\Microsoft\Windows\CurrentVersion\Uninstaller1ClickDownload
HKEY_LOCAL_MACHINE\Software\[APPLICATION]\Microsoft\Windows\CurrentVersion\UninstallerV9.0 Torntv 1.1
HKEY_LOCAL_MACHINE\Software\[APPLICATION]\Microsoft\Windows\CurrentVersion\Uninstaller1ClickDownloader
SOFTWARE\Google\Chrome\Extensions\jbpkiefagocgkmemidfngdkamloieekf
SOFTWARE\Wow6432Node\Google\chrome\Extensions\jbpkiefagocgkmemidfngdkamloieekf
SOFTWARE\Wow6432Node\Microsoft\Windows\CurrentVersion\Uninstall\1ClickDownload
SOFTWARE\Wow6432Node\Microsoft\Tracing\TornTVApp_setup(0)_RASAPI32
SOFTWARE\Wow6432Node\Microsoft\Tracing\TornTVApp_setup(0)_RASMANCS
SOFTWARE\Microsoft\Tracing\TornTVSetup_RASAPI32
SOFTWARE\Wow6432Node\Microsoft\Tracing\TornTVSetup_RASMANCS
SOFTWARE\Microsoft\Tracing\TornTVSetup_RASMANCS
Software\1ClickDownload
Software\AppDataLow\Software\Torntv 2
SOFTWARE\Classes\CrossriderApp0035578.Sandbox
SOFTWARE\Classes\CrossriderApp0035578.Sandbox.1
SOFTWARE\Microsoft\Windows NT\CurrentVersion\Schedule\TaskCache\Tasks\{34523EBE-2AEA-4F74-8BF7-57A57340F705}
SOFTWARE\Microsoft\Windows NT\CurrentVersion\Schedule\TaskCache\Logon\{34523EBE-2AEA-4F74-8BF7-57A57340F705}
SOFTWARE\Microsoft\Windows NT\CurrentVersion\Schedule\TaskCache\Tasks\{8DE082C0-A649-4F61-B5F9-5163B39554F6}
SOFTWARE\Microsoft\Windows NT\CurrentVersion\Schedule\TaskCache\Logon\{8DE082C0-A649-4F61-B5F9-5163B39554F6}
SOFTWARE\Microsoft\Windows NT\CurrentVersion\Schedule\TaskCache\Tasks\{A64C07D1-4134-4519-AC44-86B47160B5CA}
SOFTWARE\Microsoft\Windows NT\CurrentVersion\Schedule\TaskCache\Tree\Torntv 2-updater
SOFTWARE\Wow6432Node\Google\Chrome\Extensions\bicnnkjibmphdeigoodpjlcklcnaobdj
SOFTWARE\Wow6432Node\Microsoft\Internet Explorer\Low Rights\ElevationPolicy\{091f7430-e568-4477-8302-60be90dff142}
SOFTWARE\Wow6432Node\Microsoft\Internet Explorer\Low Rights\ElevationPolicy\{8f3263a9-ae07-449d-bf03-5cedf0e9d7ae}
SOFTWARE\Wow6432Node\Microsoft\Internet Explorer\Low Rights\ElevationPolicy\{9ce037a0-9f4d-4d58-82be-ce45256d47da}
SOFTWARE\Wow6432Node\Microsoft\Internet Explorer\Low Rights\ElevationPolicy\{ab3b6b05-5dfc-4ebd-a023-2bde2ef48487}
SOFTWARE\Wow6432Node\Microsoft\Internet Explorer\Low Rights\ElevationPolicy\{ecbe83d0-245c-4197-accb-06a3724d15d5}
SOFTWARE\Microsoft\Internet Explorer\Low Rights\ElevationPolicy\{ab3b6b05-5dfc-4ebd-a023-2bde2ef48487}
SOFTWARE\Microsoft\Internet Explorer\Low Rights\ElevationPolicy\{ecbe83d0-245c-4197-accb-06a3724d15d5}
SOFTWARE\Wow6432Node\Microsoft\Windows\CurrentVersion\explorer\Browser Helper Objects\{11111111-1111-1111-1111-110311551178}
SOFTWARE\Microsoft\Windows\CurrentVersion\explorer\Browser Helper Objects\{11111111-1111-1111-1111-110311551178}
SOFTWARE\Wow6432Node\Microsoft\Windows\CurrentVersion\Ext\PreApproved\{11111111-1111-1111-1111-110311551178}
SOFTWARE\Microsoft\Windows\CurrentVersion\Ext\PreApproved\{11111111-1111-1111-1111-110311551178}
SOFTWARE\Wow6432Node\Torntv
SOFTWARE\Classes\TorntvDownloader
SOFTWARE\Microsoft\Tracing\Torntv Downloader_RASAPI32
SOFTWARE\Microsoft\Tracing\Torntv Downloader_RASMANCS
SOFTWARE\Microsoft\Windows NT\CurrentVersion\Schedule\TaskCache\Tasks\{0C64E84F-408D-4348-8ADE-138572C4D5AB}
SOFTWARE\Microsoft\Windows NT\CurrentVersion\Schedule\TaskCache\Tasks\{22209AC9-0201-4541-B862-66EA748B3BD8}
SOFTWARE\Microsoft\Windows NT\CurrentVersion\Schedule\TaskCache\Tasks\{A79CD199-C1BB-4E1A-AA20-FE4806B80D09}
SOFTWARE\Microsoft\Windows NT\CurrentVersion\Schedule\TaskCache\Logon\{A79CD199-C1BB-4E1A-AA20-FE4806B80D09}
Software\Microsoft\Internet Explorer\ApprovedExtensionsMigration, value: {11111111-1111-1111-1111-110311551178}
Software\Microsoft\Windows\CurrentVersion\Ext\Settings\{11111111-1111-1111-1111-110311551178}
SOFTWARE\Microsoft\Internet Explorer\Low Rights\ElevationPolicy\{9518bc89-9639-4183-804d-7af98b230886}
SOFTWARE\Microsoft\Internet Explorer\Low Rights\ElevationPolicy\{c002c2b0-b030-4fb9-898f-66aa04ed7768}
SOFTWARE\Microsoft\Internet Explorer\Low Rights\ElevationPolicy\{d59e146b-1f74-453f-8244-899e65b3d975}
SOFTWARE\Wow6432Node\Microsoft\Internet Explorer\Low Rights\ElevationPolicy\{0eac069f-41c7-4df5-8143-3808234c9e15}
SOFTWARE\Wow6432Node\Microsoft\Internet Explorer\Low Rights\ElevationPolicy\{698052cc-e3ca-48c9-ae68-6d5d5934797c}
SOFTWARE\Wow6432Node\Microsoft\Internet Explorer\Low Rights\ElevationPolicy\{9518bc89-9639-4183-804d-7af98b230886}
SOFTWARE\Wow6432Node\Microsoft\Internet Explorer\Low Rights\ElevationPolicy\{c002c2b0-b030-4fb9-898f-66aa04ed7768}
SOFTWARE\Microsoft\Windows NT\CurrentVersion\Schedule\TaskCache\Tasks\{EA70A6C7-161C-483D-B32F-4266DDB86615}
SOFTWARE\Wow6432Node\Microsoft\Internet Explorer\MAIN\FeatureControl\FEATURE_BROWSER_EMULATION, value: Torntv 2-bg.exe
Local Settings\Software\Microsoft\Windows\CurrentVersion\AppContainer\Storage\windows_ie_ac_001\Software\Torntv 2
Software\Microsoft\Internet Explorer\Low Rights\ElevationPolicy\{21d81749-b73c-4ada-a1e9-f3c79779a743}
Software\Microsoft\Internet Explorer\Low Rights\ElevationPolicy\{224F7B07-84A5-458E-9EE6-C2AE3F8FD2F1}
Software\Microsoft\Internet Explorer\Low Rights\ElevationPolicy\{307A4582-2811-4065-9B51-DFAC118B1B0}
Software\Microsoft\Internet Explorer\Low Rights\ElevationPolicy\{5cfad20e-6920-4da6-8014-cb1a1347d497}
Software\Microsoft\Internet Explorer\Low Rights\ElevationPolicy\{7d7b90ec-0f77-49ec-bfa5-07a12bb9f394}
Software\Microsoft\Internet Explorer\Low Rights\ElevationPolicy\{ADADB96B-DFE9-44C9-BEC6-BE93CA9EFFD8}
SOFTWARE\Classes\.torrent\OpenWithProgIDs, value: TorntvDownloader
SOFTWARE\Microsoft\Windows NT\CurrentVersion\Schedule\TaskCache\Tasks\{319A2F95-7DD1-413F-B6F0-574CDBD48A98}
SOFTWARE\Microsoft\Windows NT\CurrentVersion\Schedule\TaskCache\Tasks\{C545FCA6-A075-4CD4-BA81-5A6D635C477A}
SOFTWARE\Microsoft\Windows NT\CurrentVersion\Schedule\TaskCache\Tasks\{D952FDC1-084A-46E6-8251-D1E2F13A98BD}
Software\Microsoft\Windows\CurrentVersion\Ext\Stats\{11111111-1111-1111-1111-110311551178}
Software\Classes\Local Settings\Software\Microsoft\Windows\CurrentVersion\AppContainer\Storage\windows_ie_ac_001\Software\Torntv 2
SOFTWARE\Wow6432Node\Microsoft\Internet Explorer\Low Rights\ElevationPolicy\{7d7b90ec-0f77-49ec-bfa5-07a12bb9f394}
SOFTWARE\Wow6432Node\Microsoft\Internet Explorer\Low Rights\ElevationPolicy\{d49cfa8c-0142-453f-bc43-12931743833d}
SOFTWARE\Wow6432Node\Microsoft\Internet Explorer\Low Rights\ElevationPolicy\{df1ddecd-5fe5-4e0c-872b-ae4985af5171}
SOFTWARE\Microsoft\Windows NT\CurrentVersion\Schedule\TaskCache\Logon\{E0443337-DAF3-46C4-B73B-4C825FD281F2}
SOFTWARE\Microsoft\Windows NT\CurrentVersion\Schedule\TaskCache\Tree\Torntv V6.0-codedownloader
SOFTWARE\Microsoft\Windows NT\CurrentVersion\Schedule\TaskCache\Tree\Torntv V6.0-enabler
SOFTWARE\Microsoft\Windows NT\CurrentVersion\Schedule\TaskCache\Tree\Torntv V6.0-updater
SOFTWARE\Wow6432Node\Microsoft\Windows\CurrentVersion\Uninstall\Torntv V6.0
SOFTWARE\Wow6432Node\Torntv V6.0
SOFTWARE\Microsoft\Windows\CurrentVersion\Uninstall\Torntv V6.0
SOFTWARE\Microsoft\Internet Explorer\Low Rights\ElevationPolicy\{70fc0ad7-e6e0-4273-8d17-63b240e194b2}
SOFTWARE\Microsoft\Windows NT\CurrentVersion\Schedule\TaskCache\Tasks\{783A59D7-9941-4B87-810B-A7CECB10E03E}
SOFTWARE\Microsoft\Windows NT\CurrentVersion\Schedule\TaskCache\Tasks\{B4C92D3D-CB71-497E-A61D-5373E5F1F824}
SOFTWARE\Microsoft\Windows NT\CurrentVersion\Schedule\TaskCache\Logon\{783A59D7-9941-4B87-810B-A7CECB10E03E}
SOFTWARE\Microsoft\Windows NT\CurrentVersion\Schedule\TaskCache\Logon\{B4C92D3D-CB71-497E-A61D-5373E5F1F824}
SOFTWARE\Classes\CrossriderApp0045960.BHO.1
SOFTWARE\Classes\CrossriderApp0045960.Sandbox
SOFTWARE\Classes\CrossriderApp0045960.Sandbox.1
SOFTWARE\Microsoft\Internet Explorer\Low Rights\ElevationPolicy\{44141d66-1fa6-4c28-b2d9-07fd14352eb6}
CrossriderApp0045960.BHO
CrossriderApp0045960.BHO.1
CrossriderApp0045960.Sandbox
CrossriderApp0045960.Sandbox.1
Software\AppDataLow\Software\Torntv V6.0
Software\Microsoft\Internet Explorer\Low Rights\ElevationPolicy\{26255856-E470-40E5-B415-C072B398B667}
Software\Microsoft\Internet Explorer\Low Rights\ElevationPolicy\{3AAEC42E-F1D5-4C0E-84CA-689862BEEF5C}
Software\Microsoft\Internet Explorer\Low Rights\ElevationPolicy\{44141d66-1fa6-4c28-b2d9-07fd14352eb6}
Software\Microsoft\Internet Explorer\Low Rights\ElevationPolicy\{68A36E24-221F-40C2-8AB1-9C3F2F5A7FD}
Software\Microsoft\Internet Explorer\Low Rights\ElevationPolicy\{70fc0ad7-e6e0-4273-8d17-63b240e194b2}
Software\Microsoft\Internet Explorer\Low Rights\ElevationPolicy\{C4E3AD9D-8561-4BA5-A36B-116F6E795E4}
Software\Microsoft\Internet Explorer\Low Rights\ElevationPolicy\{d8440e5c-16c7-4ada-855f-d069c4a64673}
Software\Microsoft\Windows\CurrentVersion\Policies\Ext\CLSID, value: {11111111-1111-1111-1111-110411591160}
SOFTWARE\Classes\CrossriderApp0045960.BHO
Local Settings\Software\Microsoft\Windows\CurrentVersion\AppContainer\Storage\windows_ie_ac_001\Software\Torntv V6.0
SOFTWARE\Wow6432Node\Microsoft\Internet Explorer\Low Rights\ElevationPolicy\{44141d66-1fa6-4c28-b2d9-07fd14352eb6}
SOFTWARE\Wow6432Node\Microsoft\Internet Explorer\Low Rights\ElevationPolicy\{d8440e5c-16c7-4ada-855f-d069c4a64673}
SOFTWARE\Microsoft\Windows NT\CurrentVersion\Schedule\TaskCache\Logon\{BE7C0C03-BB4A-4321-B03C-6916390E408B}
SOFTWARE\Microsoft\Windows NT\CurrentVersion\Schedule\TaskCache\Tasks\{BE7C0C03-BB4A-4321-B03C-6916390E408B}
SOFTWARE\Microsoft\Windows NT\CurrentVersion\Schedule\TaskCache\Logon\{AF1E18CD-FBE1-45DF-AFBA-E861CD44E50C}
SOFTWARE\Microsoft\Windows NT\CurrentVersion\Schedule\TaskCache\Tasks\{AF1E18CD-FBE1-45DF-AFBA-E861CD44E50C}
SOFTWARE\Microsoft\Windows NT\CurrentVersion\Schedule\TaskCache\Tasks\{08FE3E58-4843-404F-8C9C-B83B40CCC785}
SOFTWARE\Microsoft\Windows NT\CurrentVersion\Schedule\TaskCache\Logon\{08FE3E58-4843-404F-8C9C-B83B40CCC785}
Software\Microsoft\Internet Explorer\Low Rights\ElevationPolicy\{67D5787F-9B97-4EB3-BFCA-B860DD951367}
SOFTWARE\Wow6432Node\Microsoft\Internet Explorer\MAIN\FeatureControl\FEATURE_BROWSER_EMULATION, value: Torntv V6.0-bg.exe
SOFTWARE\Microsoft\Internet Explorer\MAIN\FeatureControl\FEATURE_BROWSER_EMULATION, value: Torntv V6.0-bg.exe
SOFTWARE\Wow6432Node\Microsoft\Windows\CurrentVersion\Ext\PreApproved\{11111111-1111-1111-1111-110411591160}
SOFTWARE\Microsoft\Windows\CurrentVersion\Ext\PreApproved\{11111111-1111-1111-1111-110411591160}
Software\Microsoft\Internet Explorer\Approved Extensions, value: {11111111-1111-1111-1111-110411591160}
Software\Microsoft\Internet Explorer\Low Rights\ElevationPolicy\{C2915CBA-B29B-4DBB-B353-14786BDD8247}
Software\Microsoft\Internet Explorer\Low Rights\ElevationPolicy\{9F137908-9ED2-4324-9496-AE1A98FFD4F}
Software\Microsoft\Windows\CurrentVersion\Ext\Stats\{11111111-1111-1111-1111-110411591160}
Software\Microsoft\Windows\CurrentVersion\Ext\Settings\{11111111-1111-1111-1111-110411591160}
Software\Classes\Local Settings\Software\Microsoft\Windows\CurrentVersion\AppContainer\Storage\windows_ie_ac_001\Software\Torntv V6.0
SOFTWARE\Microsoft\Windows NT\CurrentVersion\Schedule\TaskCache\Logon\{8B85332B-0AA7-4957-B061-4248EF09E7B5}
SOFTWARE\Microsoft\Windows NT\CurrentVersion\Schedule\TaskCache\Logon\{1FA3E894-6D95-4025-9F70-9368EF6602C4}
SOFTWARE\Microsoft\Windows NT\CurrentVersion\Schedule\TaskCache\Tasks\{1FA3E894-6D95-4025-9F70-9368EF6602C4}
SOFTWARE\Microsoft\Windows NT\CurrentVersion\Schedule\TaskCache\Tasks\{8B85332B-0AA7-4957-B061-4248EF09E7B5}
SOFTWARE\Microsoft\Windows NT\CurrentVersion\Schedule\TaskCache\Tree\Torntv V6.0-firefoxinstaller
SOFTWARE\Microsoft\Windows NT\CurrentVersion\Schedule\CompatibilityAdapter\Signatures, value: Torntv V6.0-firefoxinstaller.job
SOFTWARE\Microsoft\Windows NT\CurrentVersion\Schedule\TaskCache\Logon\{1AFD3883-5D3E-4543-A0E8-7F8EEB067B0B}
SOFTWARE\Microsoft\Windows NT\CurrentVersion\Schedule\TaskCache\Tasks\{1AFD3883-5D3E-4543-A0E8-7F8EEB067B0B}
SOFTWARE\Microsoft\Windows NT\CurrentVersion\Schedule\CompatibilityAdapter\Signatures, value: Torntv V6.0-updater.job
SOFTWARE\Microsoft\Windows NT\CurrentVersion\Schedule\CompatibilityAdapter\Signatures, value: Torntv V6.0-updater.job.fp
SOFTWARE\Microsoft\Windows NT\CurrentVersion\Schedule\TaskCache\Tasks\{6E1A1E61-DEA7-4839-941F-1A6A2D793749}
SOFTWARE\Microsoft\Windows NT\CurrentVersion\Schedule\TaskCache\Tasks\{0B73C215-F61D-4C3E-8DDD-4A32B1BD24A5}
SOFTWARE\Microsoft\Windows NT\CurrentVersion\Schedule\TaskCache\Logon\{0B73C215-F61D-4C3E-8DDD-4A32B1BD24A5}
SOFTWARE\Microsoft\Windows NT\CurrentVersion\Schedule\TaskCache\Logon\{6E1A1E61-DEA7-4839-941F-1A6A2D793749}
Software\Microsoft\Internet Explorer\Low Rights\ElevationPolicy\{C9B5FF18-D8D7-4E1D-BB69-A0758136C82E}
Software\Microsoft\Internet Explorer\Low Rights\ElevationPolicy\{A470378E-F27B-4B59-B39E-184AB229832}
Software\Microsoft\Internet Explorer\Low Rights\ElevationPolicy\{84064745-9989-41C5-A184-555A4E64BEB}
Software\Microsoft\Internet Explorer\Low Rights\ElevationPolicy\{57D34FE3-A20B-4620-81E2-904865306}
Software\AppDataLow\Software\Crossrider\onBeforeNavigate, value: 45960
Software\AppDataLow\Software\Crossrider\onRequest, value: 45960
Software\Microsoft\Internet Explorer\Low Rights\ElevationPolicy\{0f907b72-fb4a-456f-a3b0-473257174ee0}
Software\Microsoft\Internet Explorer\Low Rights\ElevationPolicy\{96fd5a86-ae97-4f6c-9f06-0241887d2c27}
Software\Microsoft\Internet Explorer\Low Rights\ElevationPolicy\{b85c7368-970c-4bee-8125-d0d03b9de96e}
Software\Microsoft\Internet Explorer\Low Rights\ElevationPolicy\{cad24353-257d-4344-b34a-d6a06ddfc5c9}
Software\Microsoft\Internet Explorer\Low Rights\ElevationPolicy\{D0A0465D-7ADF-4281-829E-FF29F8E5B8D2}
Software\Microsoft\Internet Explorer\Low Rights\ElevationPolicy\{D4EB1088-F2C7-4E50-849E-BA41AC82EF5B}
SOFTWARE\Microsoft\Windows NT\CurrentVersion\Schedule\TaskCache\Tree\Torntv V6.0-chromeinstaller
SOFTWARE\Wow6432Node\Microsoft\Internet Explorer\Low Rights\ElevationPolicy\{0f907b72-fb4a-456f-a3b0-473257174ee0}
SOFTWARE\Wow6432Node\Microsoft\Internet Explorer\Low Rights\ElevationPolicy\{6051d6b1-5307-4dda-a573-5ac084f898b8}
SOFTWARE\Wow6432Node\Microsoft\Internet Explorer\Low Rights\ElevationPolicy\{cad24353-257d-4344-b34a-d6a06ddfc5c9}
SOFTWARE\Wow6432Node\Microsoft\Internet Explorer\MAIN\FeatureControl\FEATURE_BROWSER_EMULATION, value: Torntv V7.0-bg.exe
SOFTWARE\Wow6432Node\Microsoft\Windows\CurrentVersion\Uninstall\Torntv V7.0
SOFTWARE\Wow6432Node\Torntv V7.0
SOFTWARE\Torntv V7.0
SOFTWARE\Microsoft\Windows NT\CurrentVersion\Schedule\TaskCache\Logon\{7EF3C907-B43F-46AD-892A-CA39B4452933}
SOFTWARE\Microsoft\Windows NT\CurrentVersion\Schedule\TaskCache\Tasks\{5F5D8282-B4F6-4B81-9001-E423159B4373}
SOFTWARE\Microsoft\Windows NT\CurrentVersion\Schedule\TaskCache\Logon\{5F5D8282-B4F6-4B81-9001-E423159B4373}
SOFTWARE\Microsoft\Windows NT\CurrentVersion\Schedule\TaskCache\Tasks\{61AB93D5-0D71-45E7-A8C9-75D95268499B}
SOFTWARE\Microsoft\Windows NT\CurrentVersion\Schedule\TaskCache\Logon\{61AB93D5-0D71-45E7-A8C9-75D95268499B}
SOFTWARE\Microsoft\Windows NT\CurrentVersion\Schedule\TaskCache\Tasks\{6D860DCD-6E76-4788-856D-0CF9A9C6DB01}
SOFTWARE\Microsoft\Windows NT\CurrentVersion\Schedule\TaskCache\Tasks\{7EF3C907-B43F-46AD-892A-CA39B4452933}
SOFTWARE\Microsoft\Windows\CurrentVersion\Explorer\Browser Helper Objects\{11111111-1111-1111-1111-110411901140}
SOFTWARE\Wow6432Node\Microsoft\Windows\CurrentVersion\explorer\Browser Helper Objects\{11111111-1111-1111-1111-110411901140}
SOFTWARE\Microsoft\Windows\CurrentVersion\Ext\PreApproved\{11111111-1111-1111-1111-110411901140}
SOFTWARE\Wow6432Node\Microsoft\Windows\CurrentVersion\Ext\PreApproved\{11111111-1111-1111-1111-110411901140}
SOFTWARE\Wow6432Node\Microsoft\Internet Explorer\Low Rights\ElevationPolicy\{03a7f11c-9738-4147-aa95-53f19f7acaf6}
SOFTWARE\Wow6432Node\Microsoft\Internet Explorer\Low Rights\ElevationPolicy\{4391e1a3-6881-425b-8f13-e1d11b4e4cda}
Software\Microsoft\Windows\CurrentVersion\Ext\Settings\{11111111-1111-1111-1111-110411901140}
Software\Microsoft\Windows\CurrentVersion\Ext\Stats\{11111111-1111-1111-1111-110411901140}
Software\Microsoft\Internet Explorer\Low Rights\ElevationPolicy\{03a7f11c-9738-4147-aa95-53f19f7acaf6}
Software\Microsoft\Internet Explorer\Low Rights\ElevationPolicy\{1D1D6907-7E1B-4F6F-8E1C-269D38742D36}
Software\Microsoft\Internet Explorer\Low Rights\ElevationPolicy\{4391e1a3-6881-425b-8f13-e1d11b4e4cda}
Software\Microsoft\Internet Explorer\Low Rights\ElevationPolicy\{556843BC-C1FD-4637-91AC-36FDFED0FF1D}
Software\Microsoft\Internet Explorer\Low Rights\ElevationPolicy\{844df3e1-690e-4fee-b263-3c437e27d628}
Software\Microsoft\Internet Explorer\Low Rights\ElevationPolicy\{febbade8-04ef-47cd-9766-290e82ccfe52}
Local Settings\Software\Microsoft\Windows\CurrentVersion\AppContainer\Storage\windows_ie_ac_001\Software\Torntv V7.0
Software\AppDataLow\Software\Crossrider\onBeforeNavigate, value: 49040
Software\AppDataLow\Software\Crossrider\onRequest, value: 49040
Software\AppDataLow\Software\Torntv V7.0
Software\Classes\Local Settings\Software\Microsoft\Windows\CurrentVersion\AppContainer\Storage\windows_ie_ac_001\Software\Torntv V7.0
Software\Microsoft\Internet Explorer\Approved Extensions, value: {11111111-1111-1111-1111-110411901140}
SOFTWARE\Classes\CrossriderApp0049040.Sandbox.1
CrossriderApp0049040.BHO
CrossriderApp0049040.BHO.1
CrossriderApp0049040.Sandbox
CrossriderApp0049040.Sandbox.1
SOFTWARE\Microsoft\Windows NT\CurrentVersion\Schedule\TaskCache\Tree\Torntv V7.0-chromeinstaller-dev
SOFTWARE\Microsoft\Windows NT\CurrentVersion\Schedule\TaskCache\Tree\Torntv V7.0-codedownloader
SOFTWARE\Microsoft\Windows NT\CurrentVersion\Schedule\TaskCache\Tree\Torntv V7.0-enabler
SOFTWARE\Microsoft\Windows NT\CurrentVersion\Schedule\TaskCache\Tree\Torntv V7.0-firefoxinstaller
SOFTWARE\Microsoft\Windows NT\CurrentVersion\Schedule\TaskCache\Tree\Torntv V7.0-updater
Software\Microsoft\Internet Explorer\Low Rights\ElevationPolicy\{1B843072-7C43-44E7-8B1C-8FA2C79F266}
Software\Microsoft\Internet Explorer\Low Rights\ElevationPolicy\{32399bf9-e805-48cd-9cd5-6db342637d93}
Software\Microsoft\Internet Explorer\Low Rights\ElevationPolicy\{41e47e29-dd18-456a-aff0-1402d0199fa2}
Software\Microsoft\Internet Explorer\Low Rights\ElevationPolicy\{4a6e3be0-39c6-41fa-8835-f6e437b3bd00}
Software\Microsoft\Internet Explorer\Low Rights\ElevationPolicy\{503526f3-7148-4c55-9bc1-fc010fb1f1b0}
Software\Microsoft\Internet Explorer\Low Rights\ElevationPolicy\{C3CB6095-1D8-4D9F-92EA-9B4BA7D5388}
Software\Microsoft\Internet Explorer\Low Rights\ElevationPolicy\{F5C4E72F-CF92-436F-A239-97AD87CBDC57}
SOFTWARE\Wow6432Node\Microsoft\Internet Explorer\Low Rights\ElevationPolicy\{32399bf9-e805-48cd-9cd5-6db342637d93}
SOFTWARE\Wow6432Node\Microsoft\Internet Explorer\Low Rights\ElevationPolicy\{41e47e29-dd18-456a-aff0-1402d0199fa2}
SOFTWARE\Wow6432Node\Microsoft\Internet Explorer\Low Rights\ElevationPolicy\{4a6e3be0-39c6-41fa-8835-f6e437b3bd00}
SOFTWARE\Wow6432Node\Microsoft\Internet Explorer\Low Rights\ElevationPolicy\{503526f3-7148-4c55-9bc1-fc010fb1f1b0}
SOFTWARE\Wow6432Node\Microsoft\Internet Explorer\Low Rights\ElevationPolicy\{7dd830f7-5ac9-4a88-af55-5ed160f45940}
SOFTWARE\Microsoft\Windows NT\CurrentVersion\Schedule\TaskCache\Tasks\{BC114374-5946-4F94-A23C-A15B1771E9B0}
SOFTWARE\Microsoft\Windows NT\CurrentVersion\Schedule\TaskCache\Logon\{BA9B5F97-E948-4A57-BDAB-013C1FB32BF0}
SOFTWARE\Microsoft\Windows NT\CurrentVersion\Schedule\TaskCache\Tasks\{BA9B5F97-E948-4A57-BDAB-013C1FB32BF0}
SOFTWARE\Microsoft\Windows NT\CurrentVersion\Schedule\TaskCache\Logon\{B30BC5FA-B9A6-4D2A-B320-0E30178F14CB}
SOFTWARE\Microsoft\Windows NT\CurrentVersion\Schedule\TaskCache\Tasks\{B30BC5FA-B9A6-4D2A-B320-0E30178F14CB}
SOFTWARE\Microsoft\Windows NT\CurrentVersion\Schedule\TaskCache\Logon\{4DE7F937-B6E0-49BA-9A2F-7DDB3D347F2D}
SOFTWARE\Microsoft\Windows NT\CurrentVersion\Schedule\TaskCache\Tasks\{4DE7F937-B6E0-49BA-9A2F-7DDB3D347F2D}
Software\Microsoft\Internet Explorer\Low Rights\ElevationPolicy\{B6348A2D-2459-4D99-A879-37C2848F916F}
Software\Microsoft\Internet Explorer\Low Rights\ElevationPolicy\{1286ADD5-B5CD-4F53-9BE8-84EF53489F70}
SOFTWARE\Wow6432Node\Microsoft\Internet Explorer\Low Rights\ElevationPolicy\{bdd1aa4a-cf3b-4d86-8b8d-b1952ddf98dc}
SOFTWARE\Wow6432Node\Microsoft\Internet Explorer\Low Rights\ElevationPolicy\{b4991eab-abe3-4c40-8ef6-2480e8130f0e}
SOFTWARE\Wow6432Node\Microsoft\Internet Explorer\Low Rights\ElevationPolicy\{129f0bb7-0f11-498a-9dd0-55a7dc4a0ee8}
Software\Microsoft\Internet Explorer\Low Rights\ElevationPolicy\{E2E8988A-4319-455E-8725-41B36B7B3A2F}
Software\Microsoft\Internet Explorer\Low Rights\ElevationPolicy\{DDD9D525-559C-4725-ADAE-D0D7993D0AC}
Software\Microsoft\Internet Explorer\Low Rights\ElevationPolicy\{bdd1aa4a-cf3b-4d86-8b8d-b1952ddf98dc}
Software\Microsoft\Internet Explorer\Low Rights\ElevationPolicy\{BB0DD26-EEBA-4C5D-8E71-774CAE59D5E}
Software\Microsoft\Internet Explorer\Low Rights\ElevationPolicy\{b4991eab-abe3-4c40-8ef6-2480e8130f0e}
Software\Microsoft\Internet Explorer\Low Rights\ElevationPolicy\{9664dbed-195f-45a4-97b4-2c63b9b37ba1}
Software\Microsoft\Internet Explorer\Low Rights\ElevationPolicy\{58336c9a-3fbb-4442-856c-3a7f64893037}
Software\Microsoft\Internet Explorer\Low Rights\ElevationPolicy\{C7E05060-1BD0-4415-8C7-A71E7EBDCBFA}
SOFTWARE\Microsoft\Internet Explorer\Low Rights\ElevationPolicy\{f5c71ade-a63e-45a5-af22-23a7450d68da}
SOFTWARE\Microsoft\Internet Explorer\Low Rights\ElevationPolicy\{aa7a5866-e8ba-41e0-b374-632d91a3a844}
SOFTWARE\Microsoft\Internet Explorer\Low Rights\ElevationPolicy\{2271cf43-e150-4c15-afe3-16afe5ce780a}
.DEFAULT\Software\AppDataLow\Software\Torntv V6.0
.DEFAULT\Software\Classes\Local Settings\Software\Microsoft\Windows\CurrentVersion\AppContainer\Storage\windows_ie_ac_001\Software\Torntv V6
Software\Microsoft\Internet Explorer\ApprovedExtensionsMigration, value: {11111111-1111-1111-1111-110411591160}
SOFTWARE\Classes\CrossriderApp0051390.Sandbox.1
SOFTWARE\Classes\CrossriderApp0051390.Sandbox
SOFTWARE\Classes\CrossriderApp0051390.BHO.1
SOFTWARE\Classes\CrossriderApp0051390.BHO
CrossriderApp0051390.BHO
CrossriderApp0051390.BHO.1
CrossriderApp0051390.Sandbox
Software\Classes\Local Settings\Software\Microsoft\Windows\CurrentVersion\AppContainer\Storage\windows_ie_ac_001\Software\Torntv V9.0
Software\AppDataLow\Software\Torntv V9.0
Local Settings\Software\Microsoft\Windows\CurrentVersion\AppContainer\Storage\windows_ie_ac_001\Software\Torntv V9.0
SOFTWARE\Wow6432Node\Microsoft\Windows\CurrentVersion\explorer\Browser Helper Objects\{11111111-1111-1111-1111-110511131190}
SOFTWARE\Torntv V9.0
SOFTWARE\Wow6432Node\Torntv V9.0
SOFTWARE\Wow6432Node\Microsoft\Windows\CurrentVersion\Uninstall\Torntv V9.0
SOFTWARE\Microsoft\Windows\CurrentVersion\Policies\Ext\CLSID, value: {11111111-1111-1111-1111-110511131190}
SOFTWARE\Wow6432Node\Microsoft\Windows\CurrentVersion\Policies\Ext\CLSID, value: {11111111-1111-1111-1111-110511131190}
SOFTWARE\Microsoft\Internet Explorer\MAIN\FeatureControl\FEATURE_BROWSER_EMULATION, value: Torntv V9.0-bg.exe
SOFTWARE\Wow6432Node\Microsoft\Internet Explorer\MAIN\FeatureControl\FEATURE_BROWSER_EMULATION, value: Torntv V9.0-bg.exe
Software\Microsoft\Windows\CurrentVersion\Ext\Stats\{11111111-1111-1111-1111-110511131190}
Software\Microsoft\Windows\CurrentVersion\Ext\Settings\{11111111-1111-1111-1111-110511131190}
Software\AppDataLow\Software\Crossrider\onBeforeNavigate, value: 51390
Software\AppDataLow\Software\Crossrider\onRequest, value: 51390
SOFTWARE\Microsoft\Windows\CurrentVersion\Ext\PreApproved\{11111111-1111-1111-1111-110511131190}
Software\Microsoft\Internet Explorer\ApprovedExtensionsMigration, value: {11111111-1111-1111-1111-110511131190}
SOFTWARE\Wow6432Node\Microsoft\Internet Explorer\Low Rights\ElevationPolicy\{e25bd778-2418-43bd-b417-98d94f67b0ed}
SOFTWARE\Wow6432Node\Microsoft\Internet Explorer\Low Rights\ElevationPolicy\{f585a701-a226-4877-9017-837f3e37a228}
SOFTWARE\Wow6432Node\Microsoft\Internet Explorer\Low Rights\ElevationPolicy\{fa83ca79-53ef-4d9d-b3a0-8724dc94fbae}
Software\Microsoft\Internet Explorer\Low Rights\ElevationPolicy\{7e8b9605-0386-4d5b-973f-06444721f450}
Software\Microsoft\Internet Explorer\Low Rights\ElevationPolicy\{ccffe97f-6737-43a1-a9f9-4a0c78082e0b}
Software\Microsoft\Internet Explorer\Low Rights\ElevationPolicy\{e25bd778-2418-43bd-b417-98d94f67b0ed}
Software\Microsoft\Internet Explorer\Low Rights\ElevationPolicy\{f585a701-a226-4877-9017-837f3e37a228}
SOFTWARE\Wow6432Node\InstalledBrowserExtensions\3874
Software\InstalledBrowserExtensions\3874
Software\Microsoft\Internet Explorer\ApprovedExtensionsMigration, value: {11111111-1111-1111-1111-110411901140}
Software\Crossrider\onBeforeNavigate, value: 51390
Software\Crossrider\onRequest, value: 51390
SOFTWARE\Wow6432Node\Microsoft\Internet Explorer\Low Rights\ElevationPolicy\{046b5803-0809-4af4-86d1-49a8a6e3e77e}
SOFTWARE\Wow6432Node\Microsoft\Internet Explorer\Low Rights\ElevationPolicy\{84014d04-125a-4cb6-99a8-dc29ee36459f}
Software\Microsoft\Internet Explorer\Low Rights\ElevationPolicy\{bc8988c0-651c-4ae6-a307-1ab9e2da67b9}
SOFTWARE\Microsoft\Windows NT\CurrentVersion\Schedule\TaskCache\Tasks\{9F6C49AF-461C-48C6-B98F-B859AA7DC60E}
SOFTWARE\Microsoft\Windows NT\CurrentVersion\Schedule\TaskCache\Tasks\{4A86DC75-7CB1-4BB5-BC86-B29EB9747AFF}
Software\Microsoft\Internet Explorer\Low Rights\ElevationPolicy\{ECFEDCE-8583-4556-80EF-D332C41EFF2E}
Software\Microsoft\Internet Explorer\Low Rights\ElevationPolicy\{A048567D-3FE2-4845-ADE7-6CE2CDB124E}
Software\Microsoft\Internet Explorer\Low Rights\ElevationPolicy\{5DC5FD95-9055-4FBC-8336-2556B3CD2FF1}
Software\Microsoft\Internet Explorer\Low Rights\ElevationPolicy\{16024764-570D-4973-B919-281058E153C0}
Software\InstalledBrowserExtensions\tom, value: 51390
SOFTWARE\V9.0 Torntv 1.1
SOFTWARE\Wow6432Node\V9.0 Torntv 1.1
Software\Classes\Local Settings\Software\Microsoft\Windows\CurrentVersion\AppContainer\Storage\windows_ie_ac_001\Software\TheTorntv V10
Local Settings\Software\Microsoft\Windows\CurrentVersion\AppContainer\Storage\windows_ie_ac_001\Software\TheTorntv V10
Software\InstalledBrowserExtensions\esc, value: 61855
SOFTWARE\Classes\TorntvDownloader.torrentFile
TorntvDownloader.torrentFile
Software\TornTv Downloader
SOFTWARE\Microsoft\Tracing\TornTvUpdater_RASAPI32
SOFTWARE\Microsoft\Tracing\TornTvUpdater_RASMANCS
SOFTWARE\Microsoft\Windows NT\CurrentVersion\Schedule\TaskCache\Logon\{F488450B-00EC-484D-AA24-327482DE5B2A}
SOFTWARE\Microsoft\Windows NT\CurrentVersion\Schedule\TaskCache\Logon\{D9843FE2-11C7-4F8F-97D3-BAF802AD452C}
SOFTWARE\Microsoft\Windows NT\CurrentVersion\Schedule\TaskCache\Logon\{D86317A0-B6FA-4701-A9B3-BA20BDBCB8E5}
SOFTWARE\Microsoft\Windows NT\CurrentVersion\Schedule\TaskCache\Logon\{CE657D5E-F7FB-411A-B96A-6B4D750D23E8}
SOFTWARE\Microsoft\Windows NT\CurrentVersion\Schedule\TaskCache\Logon\{C82A6D8E-A6AB-4DD4-8776-94F5C741557C}
SOFTWARE\Microsoft\Windows NT\CurrentVersion\Schedule\TaskCache\Logon\{5CB0508B-4DCF-4784-8DB3-4A35F634DF9A}
SOFTWARE\Microsoft\Windows NT\CurrentVersion\Schedule\TaskCache\Logon\{311782CF-F1FA-4A86-8FDB-D855F17F4F38}
SOFTWARE\Microsoft\Windows NT\CurrentVersion\Schedule\TaskCache\Tasks\{D86317A0-B6FA-4701-A9B3-BA20BDBCB8E5}
SOFTWARE\Microsoft\Windows NT\CurrentVersion\Schedule\TaskCache\Tasks\{CE657D5E-F7FB-411A-B96A-6B4D750D23E8}
SOFTWARE\Microsoft\Windows NT\CurrentVersion\Schedule\TaskCache\Tasks\{C82A6D8E-A6AB-4DD4-8776-94F5C741557C}
SOFTWARE\Microsoft\Windows NT\CurrentVersion\Schedule\TaskCache\Tasks\{5CB0508B-4DCF-4784-8DB3-4A35F634DF9A}
SOFTWARE\Microsoft\Windows NT\CurrentVersion\Schedule\TaskCache\Tasks\{311782CF-F1FA-4A86-8FDB-D855F17F4F38}
SYSTEM\ControlSet001\services\trntv
SYSTEM\ControlSet002\services\trntv
.DEFAULT\Software\TornTv Downloader
Software\Microsoft\Internet Explorer\Low Rights\ElevationPolicy\{7D2C3CA4-2101-4CFD-8EFB-A4A2C5352AE1}
Software\Microsoft\Internet Explorer\Low Rights\ElevationPolicy\{80340714-3B0-45D3-BEE6-524040805D}
Software\Microsoft\Internet Explorer\Low Rights\ElevationPolicy\{ac675dc0-4e83-4f1e-a6aa-2fadf678459f}
SOFTWARE\Microsoft\Windows\CurrentVersion\Run, value: TornTv Downloader
SOFTWARE\Google\Chrome\Extensions\nbmafkdmkkckhggblphicnnhlgljnoje
SOFTWARE\Wow6432Node\Google\Chrome\Extensions\nbmafkdmkkckhggblphicnnhlgljnoje
SOFTWARE\Classes\9ab333d0052b01323ffd0f6cdde3bdb00063311.Sandbox
SOFTWARE\Classes\9ab333d0052b01323ffd0f6cdde3bdb00063311.Sandbox.1
SOFTWARE\Microsoft\Tracing\TornTVSvc_RASAPI32
SOFTWARE\Microsoft\Tracing\TornTVSvc_RASMANCS
Software\InstalledBrowserExtensions\Qwerty, value: 63311
Software\InstalledBrowserExtensions\Qwerty, value: 68855
Software\InstalledBrowserExtensions\Qwerty
SOFTWARE\Classes\6bd34e315cba4997ad71181b65e074a50070001.Sandbox.1
SOFTWARE\Classes\6bd34e315cba4997ad71181b65e074a50070001.Sandbox
SOFTWARE\Classes\6bd34e315cba4997ad71181b65e074a50070001.BHO
SOFTWARE\Classes\6bd34e315cba4997ad71181b65e074a50070001.BHO.1
SOFTWARE\Wow6432Node\Microsoft\Tracing\Torntv Downloader_RASAPI32
SOFTWARE\Wow6432Node\Microsoft\Tracing\Torntv Downloader_RASMANCS
SOFTWARE\Google\Chrome\Extensions\jplinpmadfkdgipabgcdchbdikologlh
SOFTWARE\Wow6432Node\Google\Chrome\Extensions\jplinpmadfkdgipabgcdchbdikologlh